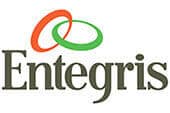 MONTREAL, Canada – 11/5/2017 - We are pleased to welcome Entegris Incorporated to the Nakisa Customer Family, consisting of over 800 global enterprise customers and over 4 million users.
A small but strong SAP customer, Entegris was engaged and educated over the course of a couple of months with regards to compliance with the new standards (ASC-842) via conversations with Nakisa & SAP oCFO. Key factors for consideration were the ability to support compliance with US-GAAP (ASC-842), native integration with SAP, and simplicity of deployment with minimal customizations to achieve SAP integration.
SAP Lease Administration by Nakisa is an end-to-end lease administration and accounting solution built on years of collaboration with SAP and key expert accounting partners, with multi-system integration capabilities and native integration with SAP ERP, allowing customers to move away from manual processes to a centralized accounting and central repository solution.
About Entegris Incorporated
Entegris, Inc. is a provider of products and systems that purify, protect, and transport critical materials used in the semiconductor device fabrication process. Entegris operates out of its headquarters in Billerica, Massachusetts. The company has about 3,500 employees in manufacturing, service center and research facilities in the United States, Malaysia, Singapore, Taiwan, China, Korea, Japan, Israel, Ireland, Germany and France. Approximately 80% of the Company's products are used in the semiconductor industry.
About Nakisa
A global leader in enterprise business solutions for Organization Transformation and Accounting and Compliance, Nakisa delivers innovative, forward-thinking and robust human resource and financial management solutions that advance your business strategies. Available on premise and in the cloud.
Working with a global network of partners and as one of the few Solution Extension (SolEx) partners of SAP® since 2007, Nakisa serves 800+ enterprise customers and over 4 million subscribers in 24 industries. Nakisa is proud to work with some of the world's most renowned brands.