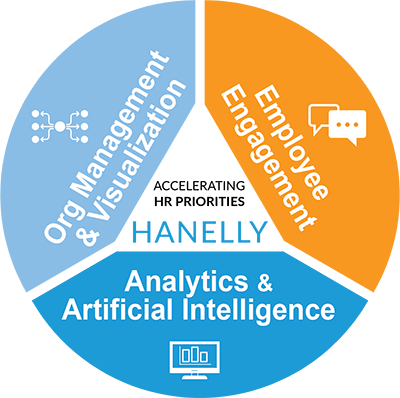 MONTREAL, Canada – August 23rd, 2017 - Nakisa has partnered with Planbox to augment its organizational transformation suite Hanelly with a patent pending AI technology for feedback, suggestion and idea management. The new solution will be marketed as an optional add-on module called "Hanelly Engage" designed to increase employee engagement and facilitate organizational transformation. Hanelly Engage will allow organizations to create a true competitive advantage by leveraging AI and engaging diverse groups in collaborative ideation, problem-solving campaigns, and challenges-driven problem-solving centered on the organization's strategy.
"We have seen continued challenges for organizations to drive successful engagement programs for organizational transformation to inspire, attract and retain talent," said Babak Varjavandi, CEO of Nakisa, "With Hanelly Engage our clients can finally connect the dots for sustainable, transformational and collaborative change".
Any organizational transformation projects such as mergers, acquisitions and divestitures all have synergy and efficiency objectives that can often greatly benefit from increased employee engagement as part of the initiative. Hanelly Engage enables an unprecedented level of access, communication and collaboration to improve engagement, innovate more effectively, and tap into the wisdom of the crowd to solve tough problems in all areas of any transformational change. The organization can cast a wide net that engages everyone and invites them to participate in solving new or existing problems as well as to gather comments and connect people across the entire organization.
"We are thrilled to form a strategic partnership with Nakisa who has 25 years of experience in organizational transformation, and a wealth of knowledge on driving better results through diversity and inclusion," said Ludwig Melik, CEO of Planbox.
About Nakisa
A global leader in enterprise business solutions for Organization Transformation and Accounting and Compliance,Nakisa delivers innovative, forward-thinking and robust human resource and financial management solutions that advance your business strategies. Nakisa serves 800+ enterprise customers and over 4 million subscribers in 24 industries. Nakisa is proud to work with some of the world's most renowned brands.
About Planbox
Planbox is the pioneering provider of cloud-based AI-Powered Agile Work Innovation solutions – from creative ideas to winning projects. Helping organizations thrive by transforming the culture of agile work, continuous innovation and creativity. Planbox is designed to be the agile innovation tool for everyone, built for companies and teams of all sizes and trusted by some of the world's most recognized brands with millions of internal and external users. To learn more, visit: www.planbox.com and unleash your innovation butterfly.