Valued clients of Nakisa Finance Suite,
We're excited to announce the release of our next-generation cloud platform – NCP 3. It empowers all solutions of Nakisa Finance Suite and provides even more security, scalability, and simpler management. By moving to the next generation of Nakisa cloud-native platform, Nakisa elevates its Finance Suite to a whole new level.
All this is to help you, our clients, access more capabilities and reach your business and operational goals even more efficiently thanks to our 3rd generation microservice-based Nakisa Cloud Platform.
Why Cloud-Native Solutions Are Changing the Game
Cloud-native solutions are architected as collections of independent, loosely coupled microservices. They are smaller than traditional apps, and typically easier to develop, deploy, and iterate on. They are built in a way that enables them to take better advantage of cloud computing models to increase speed, flexibility, and quality while reducing deployment risks.
Cloud-native solutions excel at delivering business value compared to traditionally designed apps due to their:
Incremental and automatic improvements, enabling new and enhanced application features.
Non-intrusive updates, enabling no downtime or disruption to the end-user experience.
Easier scalability, thanks to the adaptable infrastructure that underpins cloud-native apps.
Development process that closely matches the speed and innovation demanded by today's business environment.
Key Advantages of Nakisa Cloud Platform 3
Scalability: Easily adapts to your business needs, providing faster and more efficient operations thanks to Kubernetes – an industry-leading container orchestration platform.
Time to Market: Faster software deployment, upgrades, and maintenance without disrupting your operations.
ERP Integration: Timely, secure, and seamless data processing and native integration with various ERP systems as well as other Nakisa Financial Suite modules thanks to Kafka - the world's best distributed streaming platform.
Enhanced Customer Support Experience: Faster incident resolution, personalized support, and simpler change management.
How does it benefit Nakisa Finance Suite?
Scalability Advantage: Next Generation of finance solutions is faster and more efficient, which makes it easier for end-users to complete their work quickly and effectively. Critical operations during closing periods, such as report generation, postings, and multitasking, are as responsive as possible thanks to the ability of our new-generation microservices to spawn new instances as needed making the system infinitely scalable.
Time to Market Advantage: with NCP 3, enhancements and new functionalities will be available at a faster pace, allowing our clients to take advantage of the latest technology and stay ahead of the curve. Since each microservice is a separate entity, it can be independently maintained while other microservices can be swiftly added to bring innovations to the market. We also leverage CI/CD best practices to deploy value at the microservice level, without service disruption. Enhancements to different features and functionalities won't impact the rest of the application, which allows even faster development.
ERP Integration: NCP 3 offers full integration between all Nakisa Financial Suite modules, such as Lessor, Real Estate, and Capital Investment Budgeting (CIB). By leveraging Kafka – a distributed streaming platform, NCP 3 can provide data parallelism and coordinated distribution of transactions. Seamless real-time data processing and event-driven communication between our microservices enable reliable and scalable data pipelines. It means enhanced performance and responsiveness for our clients. Not only does NCP 3 continue to integrate natively with ERP using our existing Nakisa Connector, as NCP 2 or 1 did, it now offers integration with cloud ERPs directly, such as S4/Hana using REST APIs, allowing, for the first time, cloud-to-cloud integration.
Enhanced Customer Support Experience: Upgrading to NCP 3 ensures that our clients will have access to the best support: faster incident resolution, a focus on feedback collection and needed features, and observability-integrated principles deliver a better-personalized support experience, as well as simpler change (release/versioning) management. Once a client identifies an issue, it will be fixed for the entire customer base without interruptions, ensuring customers have the best experience and get the most from our client community.
Successful Upgrade to Nakisa Cloud Platform 3
During the past few months, some of the world's largest companies in the retail, beauty, pharmaceuticals, food and beverage, and energy industry have successfully used our next generation of Finance Suite solutions based on NCP 3 technology. We are excited to see the adoption of our tools at this phase.
This success is possible thanks to our progressive 3-phase upgrade strategy with distinct characteristics for each phase to adjust the process to your organization's readiness.
Let's explore three gated phases of the Nakisa upgrade strategy:
Phase 1: Early Adopters (10% of our global client base)
Opportunity to influence product development
Early access to new features
Extended validation period
Dedicated support and product team assistance during UAT
Phase 2: Early Majority (30-40% of our client base)
Rolled out after early adopters go live
Support and solution experts available during UAT
Phase 3: Late Majority (remaining 50-60% of our client base)
Rolled out after feedback from Phases 1 and 2 is addressed
Training and support resources provided
Support and customer success managers available during UAT
We ensure a smooth transition to the Next Generation, prioritizing seamless experience and world-class support throughout the upgrade process.
More details about the upgrading to NCP 3
Here are the main stages of the upgrade: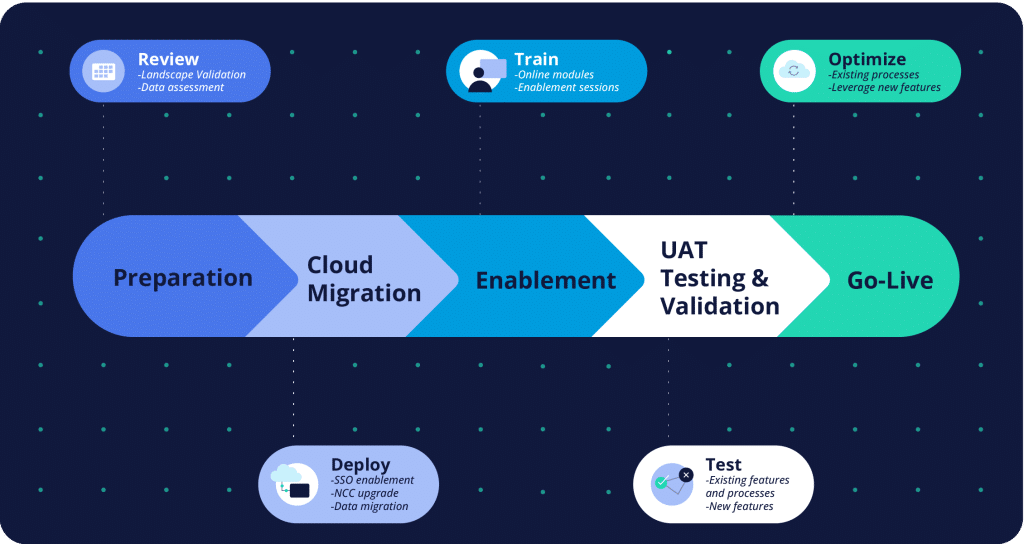 Prerequisites & Client involvement: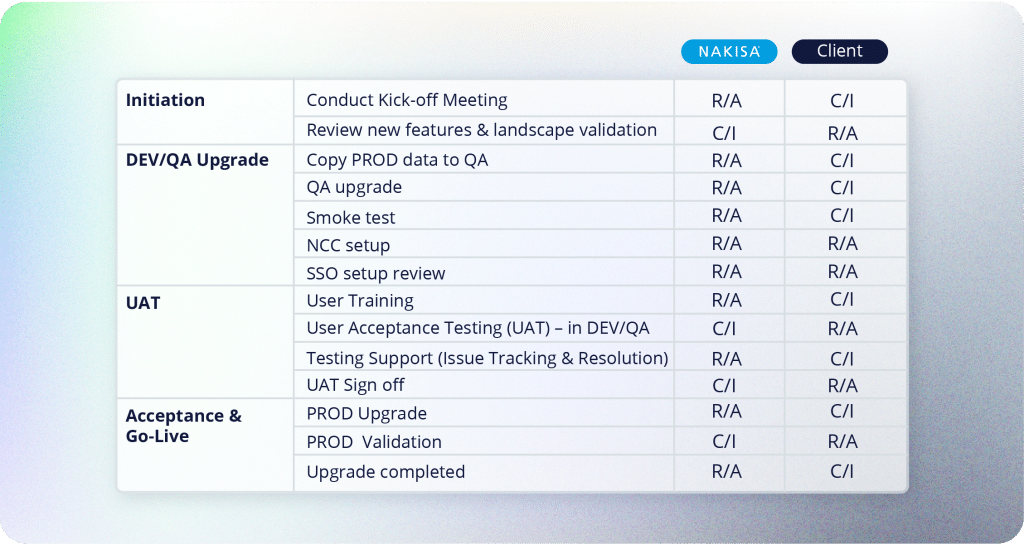 Dedicated support and product team assistance during UAT
RACI Key:
R: Responsible – The person who is responsible for completing the task.
A: Accountable – The person who is ultimately accountable for the task being completed.
C: Consulted – The person who is consulted before a decision or action is taken (not used in this matrix).
I: Informed – The person who is informed of the decision or action after it is taken.
See the upgrade timeline: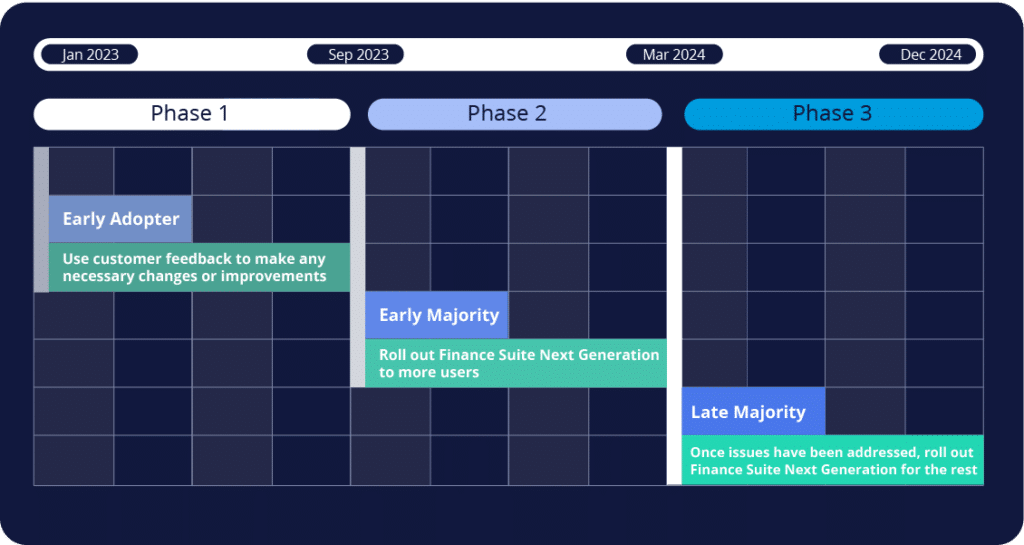 During the upgrade process, clients will mainly be responsible for User Acceptance Testing (UAT), ensuring that the new solution meets their specific business needs. Nakisa will take the lead in making sure the process is efficient and effective, providing necessary 24/7 support throughout the transition.
Discover the exciting benefits of NCP 3 and Nakisa Finance Suite Next Generation as we help you unlock the future of cloud-native finance solutions. Read even more about it here>
Stay tuned for more information, webinars, and resources. If you have any questions about your new opportunities empowered by Nakisa Cloud Platform 3, please reach out to your dedicated Customer Success Manager or contact us>
Proud to be your trusted partner,
Nakisa team