Businesses require organizational agility to thrive in today's climate—and it's not just a question of speed. Now more than ever, HR leaders need to leverage accurate, granular HR data to their support strategic decision making, productivity, and interdepartmental synergy.
Nakisa Hanelly provides even the largest, most complex organizations the agile, real-time organizational design platform they need to keep pace with their continuously shifting business needs. We're excited to share that Nakisa Hanelly's four new features provide HR professionals with added visibility into temporary or non-base assignments, offer additional granular security measures, a new variation of span-of-control analytic, and robust org unit reporting structure integration in our analytics module.
Temporary or non-base assignments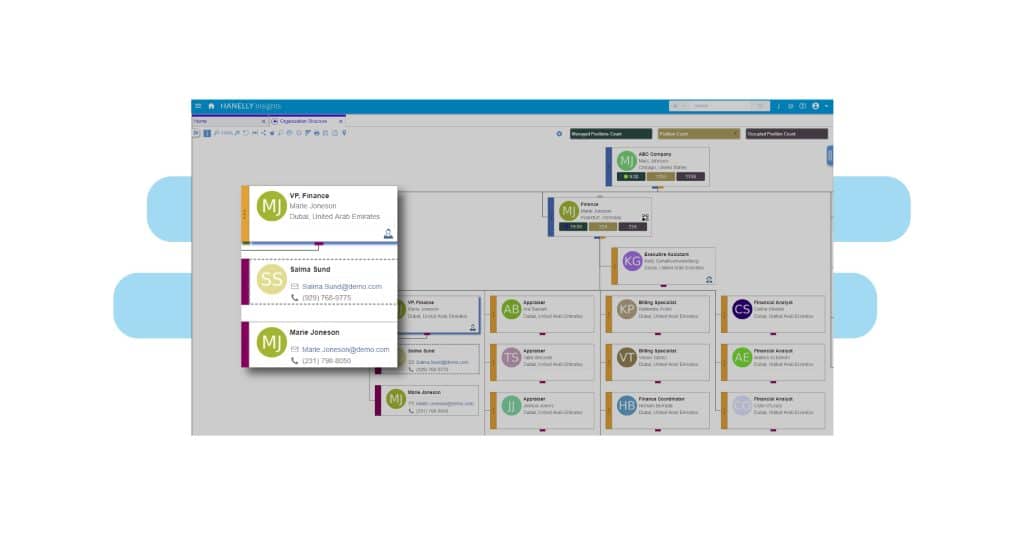 When an employee goes on leave or is otherwise authorized a prolonged absence from work by their employer, someone else typically steps up to fill their role. The employee taking on the temporarily vacant role may still hold on to their core position, and once they've concluded their responsibilities for their absent colleague, they will likely return to their former position.
HR leaders need to easily see who is holding these, or other temporary roles such as internships, and monitor the impact any shifts of responsibility may have on their organization. Nakisa Hanelly's new temporary or non-base assignments feature allows HR professionals to visualize these responsibilities directly in their org charts and org design during scenario-testing, and ultimately empowers them to make strategic, data-driven decisions for their company.
With Nakisa Hanelly's new temporary or non-base assignments feature, HR professionals can:
Easily find temporary assignments by filtering and searching their global assignments.
Understand the impact of temporary employment positions with modeling and "what-if" scenario-testing.
Report on the number of employees taking on temporary assignments.
Immediately measure the impact of keeping someone on leave versus assigning an employee to a position temporarily within the org chart for better change management.
Granular security enhancements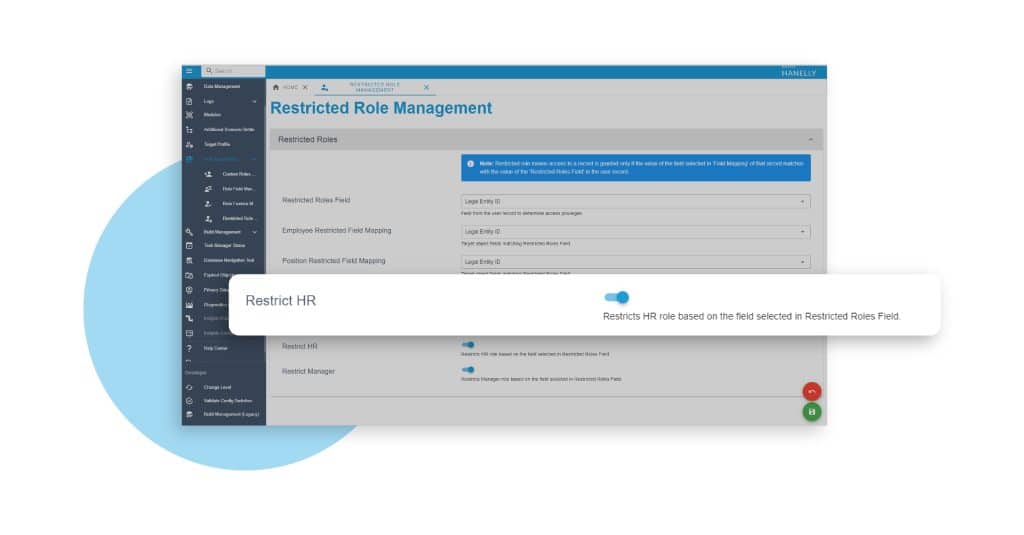 For organizations with multiple entities, subsidiaries, or other complex workforce structures, HR may need to restrict certain permissions accesses to prevent employees and users from seeing data or records outside of their scope.
Nakisa Hanelly's new granular security enhancements feature adds to the role-based permissions and security, by allowing HRIS professionals to use one instance of the solution for the umbrella company to roll out the application globally, while still upholding the necessary privacy and security measures to limit visibility of more sensitive materials.
Admin users, for example, can visualize and access their organization's global HR data and limit user access by role, location, department, subsidiary, among others. The granular security enhancements feature ensures that dashboards and org charts only show HR records based on the viewer's restrictions and will hide records and data outside of an employee's authorized scope.
With Nakisa Hanelly's latest granular security enhancements, HR professionals can:
Protect and control HR data so that only employees with the right permissions can access various layers of HR information.
Increase user adoption by managing all independent units in a single place, eliminating the need for multiple instances.
Managed positions count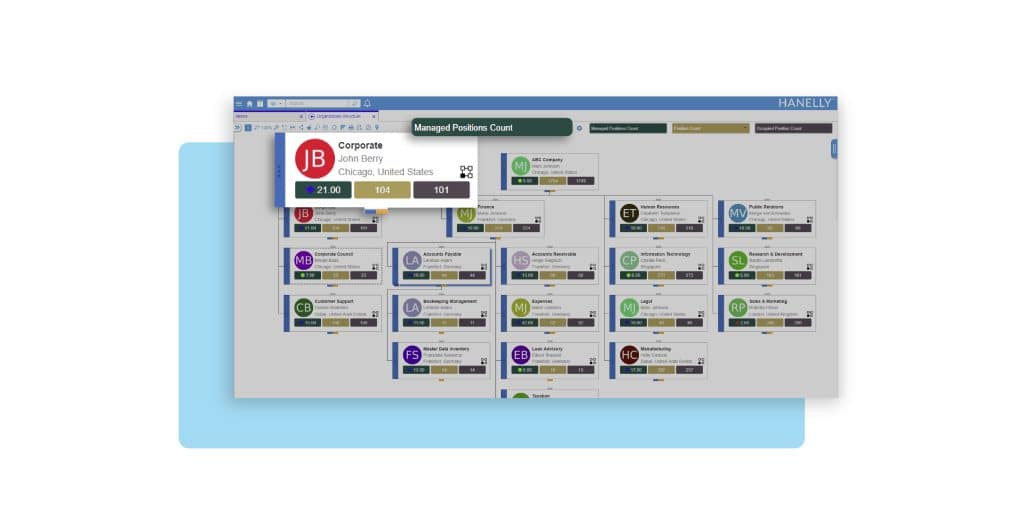 Optimizing managerial span requires an understanding of the complexity and nature of the work done by both a manager and their direct reports. Nakisa Hanelly's in-chart managed positions count analytic complements employee span-of-control and enables HR professionals to visualize position-to-position span of control without considering the presence of an incumbent in the position. This feature is particularly relevant for HR users looking to understand the span of control of both their managerial and chief positions for workforce realignment purposes.
The feature also allows companies to "fit for purpose" to their individual context and strategy. HR professionals can leverage the managed positions count feature to visualize how many positions report to a given org unit's chief, and may, for example, want to assign org design targets based on the positions managed and not the direct reportees, or understand how any vacancies could be filled to optimize workforce performance. Ultimately, the tool serves to increase an organization's effectiveness, efficiency, and productivity.
With Nakisa Hanelly's new managed positions count feature, HR professionals can:
Optimize their team's efficiency
Plan for the right managerial or chief positions without considering the position of the incumbent so that their organization's structure is optimized for budgeting impact/planning.
Foster a more productive work environment with less bottlenecks.
Action workforce insights to roadmap for the future.
Org unit reporting structure integration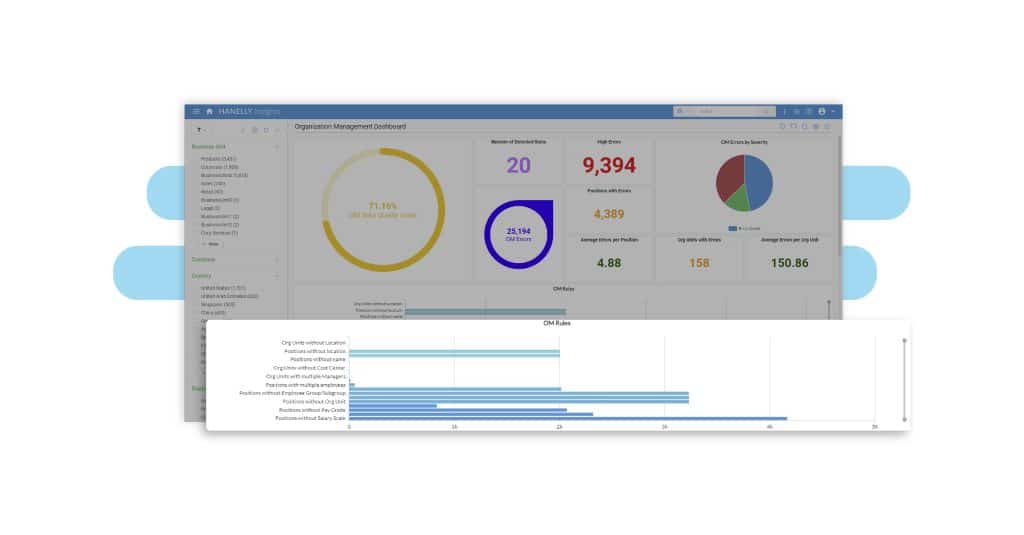 Functional groups in an enterprise can be referred to as "organizational units." Depending on how tasks are divided within an organization, units can, for example, refer to departments or project teams.
Visibility of a company's various organizational units and the hierarchical relationships between them allows HR leaders to understand and model their organizational structure. Gaining clarity into a company's organizational units can help outline how positions and tasks function within their given relationships.
Nakisa Hanelly's Insights module features a new org unit reporting structure that lets HR professionals view dashboards and analytics based on their org unit logic in addition to the existing employee and position structures, providing powerful performance insights broken down by function, region, etc.
With Nakisa Hanelly's org unit reporting structure integration, HR professionals can:
Gain a global understanding of their organization by aggregating HR data per org unit to measure performance.
Flag errors such as org units without parent org units, or org units with multiple managers.
Visualize and understand their data quality and DEI data per org unit.
Let our team of experts show you how these new features will enable agile org design!