You can't do everything all at once.
Cliché? Maybe. But it happens to be particularly true when it comes to meeting the impending compliance deadlines for the new IFRS 16 and ASC 842 lease accounting standards.
We're only a few short months away from the January 2019 deadline. For organizations who haven't started their compliance efforts yet, the months may seem even shorter.
If you've fallen behind in transitioning to the new standards, gathering relevant data, selecting new lease accounting software, and actually complying with the new standards may seem overwhelming. Luckily, there are strategies for speeding up the process.
The four pillars of rapid deployment
We give every organization we work with one important piece of advice when it comes to compliance: Before you start the transition, understand what has to be done immediately, and what can wait.
With time running out, rapid deployment of your new lease accounting setup is necessary. In the immediate term this means collecting all necessary data as quickly and accurately as possible and configuring your new lease accounting software. Integration with your current ERP and other finance and accounting sysytems—the important final piece of this transition--can come later, once compliance requirements have been met.
There are four main pillars to a good rapid deployment strategy for lease accounting:
Starter kitAdopt ready-to-use software with capabilities to manage leases from day one. Implement your system in standalone mode for a quick launch without the need for full integration with your ERP or other systems.
Lean deployment optionsTake advantage of cloud-based technology to streamline setup and deployment.
Rapid deployment methodologyUsing common high-level logic, effective lease accounting systems can extract important individualized data while your central lease accounting system is configured.
Data transition focusOnce you've configured your new lease administration system, your team can focus on ensuring a smooth transition of all necessary data.
Rapid deployment step-by-step
Nakisa Lease Administration, our new, cloud-based solution, was built around these four pillars of rapid deployment. By providing a standalone option, Nakisa Lease Administration allows you to configure your lease accounting setup without integrating with your ERP, so that you can meet compliance deadlines as quickly as possible.
This is done in four major steps:
Install your starter kitRather than requiring you to start from scratch, Nakisa Lease Administration's starter kit includes predefined process logic, application configuration, and upload templates. Our data dictionary explains the mandatory data required to meet initial compliance standards.
Configure central templateNakisa Lease Administration helps you standardize data when possible and localize when unavoidable, so that you can get a better sense of the data collection and abstraction necessary for compliance. That's when data collection can begin. Nakisa Lease Administration provides predefined upload files to streamline data abstraction.
Agile transitionNakisa Lease Administration allows for ongoing, phased data uploads so that the most important data is included in the system by the compliance deadline. Once contract terms and conditions are captured, our upload templates help users load necessary data to view amortization schedules and impacts to balance sheets.
Productive lease administrationWhen the new lease accounting standards come into effect, Nakisa Lease Administration can help ensure you have the tools required to comply. When you're ready to go-live, contracts will be activated and the periodic amortization of ROU asset and lease liability will begin. From there, your team can begin the process of transition from standalone mode to integration with your ERP.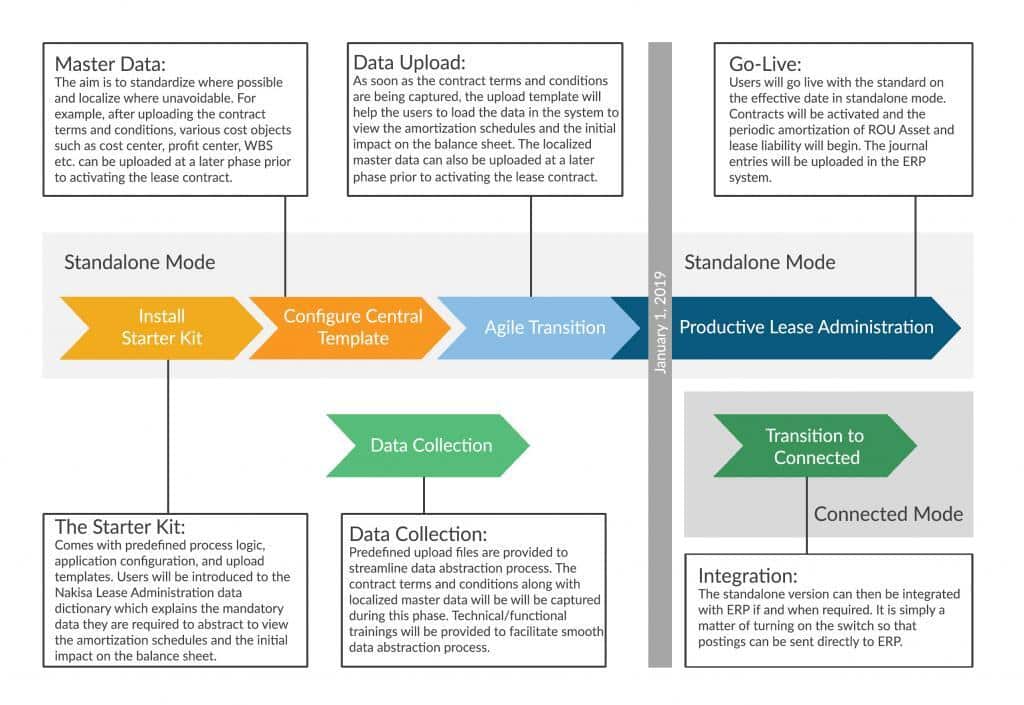 You can't do everything all at once. But, with Nakisa Lease Administration, you can begin a rapid, phased approach to meeting the impending lease accounting standards.