Visualize your organization
Visualize organizational details including demographics, reporting relationships, talent profiles, cost, and more.
Org chart metrics
View basic org metrics directly in the org chart, and in the out-of- the-box dashboard.
Engage the workforce
Increase employee engagement by enabling networking with peers, fostering skill sharing and education, and increasing organizational visibility.
Show segregated data
Segregate data by multiple criteria, and view complex reporting structures including matrix org charts and dotted-lines.
Track status
Fully track employees' statuses, positions, and costs against multiple metrics such as tenure and chain of command.
Geographic view
Understand employees by location on an interactive map and see your workforce and the structure of the organization geographically.
Clear and accurate view of your organization.
As a business, understanding your organization is critical for the execution of strategic decision making. More than ever before, business leaders and HR professionals must ensure they have visibility into key analytics and metrics to inform those decisions. Often this information is stored in multiple spreadsheets or several systems that don't talk to each other. This can cause errors, increase costs, and delay essential reporting to stakeholders.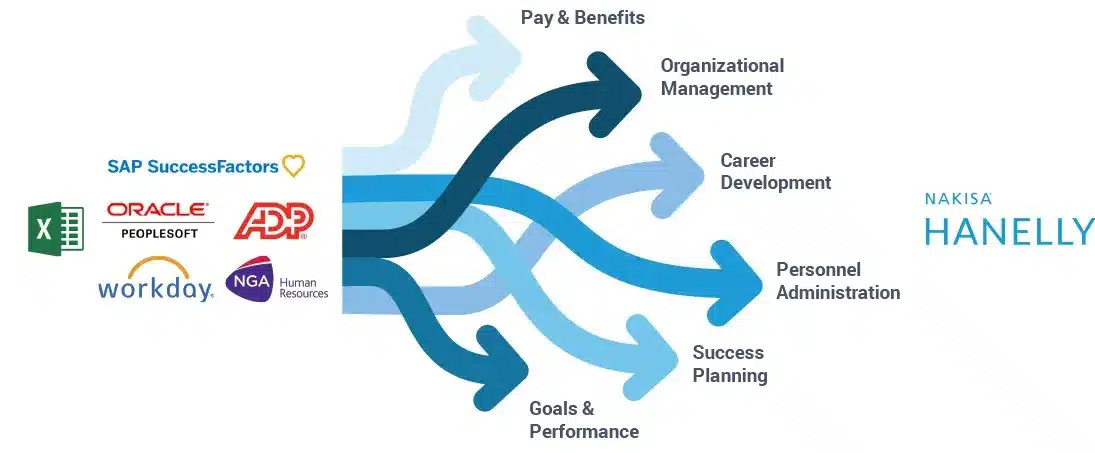 Nakisa Hanelly is an out-of-the-box org chart and org design solution. Use Hanelly to create an org chart for a full picture of your organization, leveraging your current HCM platform to visualize your data. View data such as cost, layers and span of control, right there in the org chart. Drill down into the details of an individual, utilize multiple views and filter for the metrics you need to see.
Connect and empower a global workforce.
Part of being an international organization is dealing with a dispersed workforce and the related challenges. Colleagues that are spread out in multiple offices across many locations have to deal with additional road blocks to communication.
Access employee information, when and where it's needed.
Hanelly org chart software allows you to visualize and better understand your organization. It enables leaders to easily share, discuss and analyze information with their teams, all within one system. In addition, a wide spread workforce can identify and communicate with their global colleagues within Hanelly.
See your organization from multiple perspectives.
In a world of matrix reporting, dotted lines, and informal organizational structures, getting a clear and timely picture of your organization can be a challenge. It gets even more complicated when there's multiple audience groups, who need different views. This depends on what matters most to them, and on their permissions.
Tailor to your audience.
HR Professionals
Business Leaders
Employees
Hanelly is designed to provide each view required by the different audiences in the organization in a simple way. With multiple views of the structure and dynamic filtering of data, human resources can create the exact view they need. Business leaders like the Chief Executives can also customize their view to fit their different requirements.
TESTIMONIALS
"After spending time investigating multiple solution options and discovering none met our needs without customization, a colleague suggested we look at Nakisa. Nakisa Hanelly gives us the advanced organizational charts we need, fully integrated to and complimentary of our HCM solution, and with great visualization out of the box. In short, exactly what we needed."
Jeffrey Boyd, GM-Global Talent Management
For more customer quotes, testimonials and case studies, visit our Testimonials page.