In today's fast-paced world of HR and organizational management, technology plays a crucial role in simplifying tasks and boosting overall success. A noteworthy development in this ever-evolving landscape is the integration of Nakisa HR Suite with Workday. This partnership marks a significant milestone, and in this blog, we will delve deeper into the key aspects of this integration, making it all crystal clear for you.
Imagine you are an HR leader, and you have a million things on your plate, from recruiting top talent to performing workforce planning and ensuring compliance with labor laws. It's a lot to handle! That's where technology like Nakisa HR Suite and Workday comes in, working together to provide you with a scalable, secure, and centralized source of truth. In doing so, it makes your life easier and your organization more effective.
So, let's break down what this integration means for HR leaders and how they can perform their organizational design and workforce planning more effectively:
Understanding Nakisa HR Suite: Facilitating Organizational Design and Workforce Planning
Nakisa HR Suite provides a suite of tools designed to visualize and optimize organizational structures. Its primary purpose is to assist HR and business leaders in gaining a deeper understanding of their organizations and use these insights to align HR decisions with their business needs. This suite comprises three main components: Nakisa OrgInsight, Nakisa OrgDesign, and Workforce planning.
These tools are instrumental in addressing critical questions about your organization's current status, predicting future challenges, and creating adaptable organization structures to tackle them. The OrgInsight and OrgChart module offers in-depth organizational structure visualization and advanced workforce analytics. The OrgDesign module helps you craft flexible and effective organizational structures during business transformations (reorganizations, mergers, acquisitions, integrations, divestitures, and more). The Workforce planning module offers a systematic approach to forecasting future workforce requirements, ensuring the right people with the right skills are in the right positions at the right time.
Understanding Workday: A Versatile SaaS Solution and Its Synergy with Nakisa
Workday ERP is not just run-of-the-mill software; it's a highly versatile Software-as-a-Service (SaaS) solution that covers a multitude of HR and financial management functions. This includes payroll management, time tracking, and comprehensive financial operations. Its standout feature is its adaptability, allowing organizations to efficiently manage their data from virtually anywhere with an internet connection.
Now, when we talk about integrating Workday with Nakisa, the possibilities become even more exciting. Workday, with its user-friendly interface and agile design, complements Nakisa HR Suite seamlessly. This synergy allows organizations to streamline and enhance their HR and organizational management processes.
Nakisa's Workday connector ensures secure data transfers between the two systems through robust two-way encryption and strict adherence to industry best practices. This guarantees data confidentiality and integrity, offering peace of mind as you explore the world of HR technology integration.
Ensuring Secure Native Integration and Mastering Data Mappings
Integrating different enterprise systems can be a complex undertaking due to the intricacies and potential security risks associated with data exchange. Nakisa HR Suite addresses these concerns by providing seamless connectors for data integration from various Human Capital Management (HCM) systems, with a specific focus on native integration between Nakisa HR Suite and Workday ERP.
Data security is a top priority, and Nakisa's Workday connector ensures that data transfers occur with the utmost security. It employs two-way encryption and adheres to industry best practices.
Within this secure environment, Nakisa HR Suite offers flexible data extraction options, including full data extraction and scheduled delta extractions from Workday ERP. To streamline the process further, preconfigured data mappings provide the foundation for mapping data fields from Workday HCM to Nakisa HR Suite fields. Additionally, the 'Transformations' feature adds adaptability by enabling the mapping of existing field values to new ones. This feature is particularly useful for organizations with unique mapping needs.
How Nakisa Integrates with Workday
Understanding how data flows between Workday and Nakisa HR Suite is crucial to grasp the integration's mechanics. APIs, using the SOAP messaging protocol, enable this integration. Authentication involves a combination of username, password, and company code, supported by IP restrictions for added security.
When Nakisa initiates data extraction with a GET call, Workday responds with encrypted XML data. This data travels through a secure TLS tunnel. Nakisa's Workday connector then decrypts and updates this data in Nakisa HR Suite's database.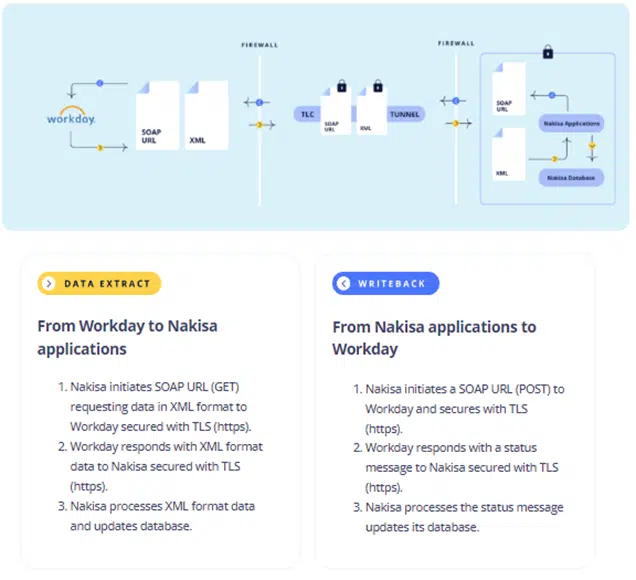 A Transformative Solution for Forward-Looking Organizations
Integrating enterprise systems is a substantial undertaking, but Nakisa HR Suite's integration with Workday simplifies the process while ensuring data security and integrity. By seamlessly combining HR analytics with organizational design, this integration empowers HR leaders to make data-driven decisions that prepare organizations for the future. Whether you are analyzing the present, predicting future challenges, or designing responsive structures, Nakisa HR Suite's Workday integration is a step toward HR excellence.
Conclusion
In conclusion, Nakisa HR Suite's integration with Workday is just one facet of its remarkable versatility in seamlessly connecting with various solutions. Whether you are looking to centralize HR data management, optimize organizational design, visualize your organization, or enhance HR analytics, Nakisa offers native integrations with leading ERP systems like SAP HCM, SAP, Oracle SuccessFactors (SF), and many more.
Unlock the potential of HR data without the complexities of technical jargon. Discover how Nakisa HR Suite's integrations can transform your HR processes and organizational management. To delve deeper into Nakisa's integration offerings and explore the possibilities, visit our integrations page.