With Premier Support for Oracle E-Business Suite (EBS) 12.1 coming to an end in December 2021, many of the thousands of organizations using on-premises Oracle Enterprise Resource Planning (ERP) solutions are faced with a dreaded question: Is now the time to move to the cloud?
The reality is that many Oracle EBS users are running on outdated releases such as R12 or 11i, and their only available option for sustaining support is not fulfilling their needs. Keeping integrations with other solutions alive has become an uncertain endeavor – and projects to add new integrations have been burdened by red flags.
Oracle EBS 12.1 customers will soon be joining the same crowd of sidelined users, as no interim Extended Support is planned after 2021. They need to consider their options and act fast. The choice? Either migrate to EBS 12.2 or take the leap towards the cloud.
As an Oracle EBS customer, are you having trouble selecting the best option? Here's more to help you make a sound decision.
The main differences between Oracle ERP Cloud and Oracle EBS
About Oracle EBS
Oracle EBS is a group of applications that automates Customer Relationship Management (CRM), Enterprise Resource Planning (ERP) and Supply Chain Management (SCM).
Oracle EBS systems are used around the world to fulfill orders for some of the largest consumer product companies, pay social benefits in many countries—the US Medicare system is a prominent example—manage integrated global ERP for some of the largest manufacturing companies, and support core operations for many defense and national security entities.
Oftentimes, these systems use EBS as the core, which is further extended with substantial customizations and complex integrations. For this reason, projects to upgrade to a new on-premises release must be carefully planned, with different IT teams involved. Running Oracle EBS goes beyond the simple database, application, and client tiers when we consider the server, storage, and network underlying components.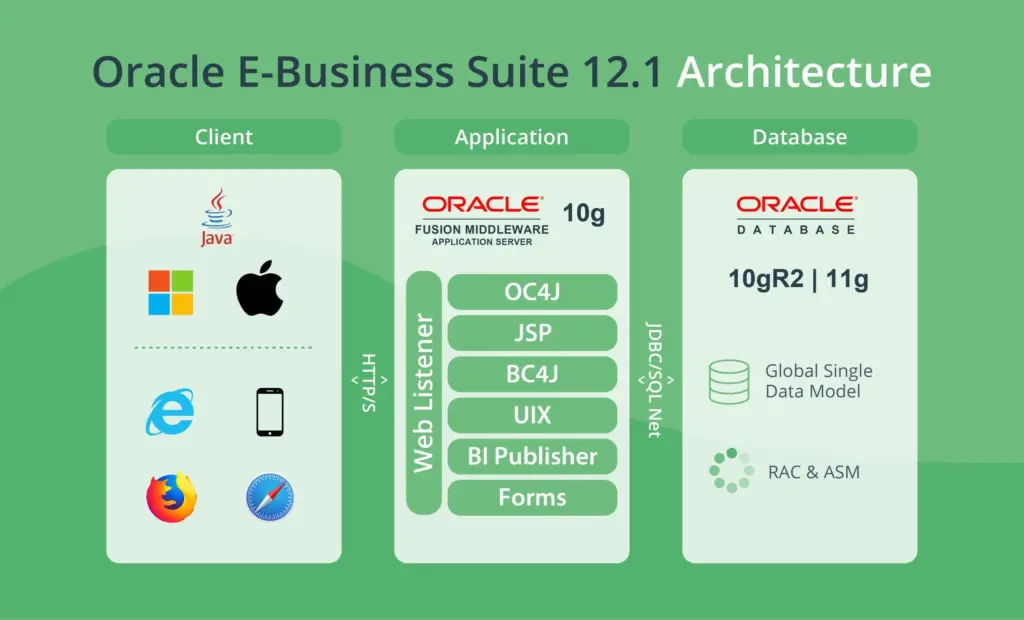 Oracle EBS 12.1 Architecture
Planning and implementing Oracle EBS upgrades can take several months to sometimes years as the project may require purchasing new hardware and developers to code new APIs for integrations.
About Oracle ERP Cloud
Cloud computing was developed as an alternative to on-premises IT. The principle is simple. Vendors deploy infrastructure—meaning servers, storage, databases, and networks—in data centers. Software-as-a-Service (SaaS) providers build their applications in this cloud infrastructure and deliver their services through web and/or mobile applications. Multitenancy is core to the concept, enabling cloud service providers to serve several clients at the same time from the same infrastructure without exposing or mixing up their data, thanks to tenant isolation and proper data management.
In a nutshell, the benefits are faster time-to-market, reduced costs for customers, better scalability, and flexibility. Upgrades are all taken care of by the providers, with less to no impact on end-users.
Oracle ERP Cloud, also known as Oracle Fusion Cloud, is a complete ERP solution delivered in a SaaS model from the cloud. This allows it to achieve more, and faster, with fewer resources. It aims to empower organizations with a modern, adaptable business practice that increases productivity and improves decisions.
Oracle Fusion modules include CRM, Supply Chain, Project Portfolio Management, Procurement, HCM, Financials, and Governance, Risk, and Compliance.
Oracle delivers extensive support for global companies in a variety of industries, along with continuous innovation in key technologies such as machine learning, intelligent automation, and analytics.
Oracle ERP Cloud vs. Oracle EBS
| Functionality | Oracle EBS | Oracle ERP Cloud |
| --- | --- | --- |
| Access | Oracle EBS 11i and later offer web-based clients. Due to servers being deployed in a local area network (LAN), users need a virtual private network (VPN) or a mobile gateway to access from outside the office. | Oracle ERP Cloud applications are accessible anywhere, anytime with a browser. This gives more flexibility for remote work. |
| User Interface and Mobility | The UI on Oracle EBS has not been revised in recent updates. Mobile applications exist but actions are limited, and further configuration is required for authentication and access. | Oracle ERP Cloud applications are user-friendly. The sleek, natural experience makes it quicker and simpler to perform most back-office functions, even from a mobile device. |
| Architecture | Oracle EBS applications are delivered from servers, databases, storage, and applications hosted in your local network, on-premises. | Oracle ERP Cloud applications are delivered from Oracle's cloud infrastructure and accessible through the internet. |
| Maintenance | Deploying updates or upgrading to new releases are costly and time-consuming projects. They require much more effort from IT. | Organizations no longer need to take care of updates and upgrades as they are done on Oracle's cloud infrastructure with Oracle ERP Cloud. IT teams can focus their efforts on other projects. |
| Cost | Enabling a new functionality on Oracle EBS requires extended planning, involves more teams, and costs more | Introducing new functionalities is simpler, slashing down costs related to deployment. Maintenance costs are low. |
| Licensing | The license cost for Oracle EBS easily escalates because of mandatory infrastructure components such as Oracle Database. | Oracle ERP Cloud has no upfront license charges. |
| Infrastructure | The range of integration options in Oracle EBS is narrow. Integration requires more skills from IT. | Oracle Cloud infrastructure leverages partner capabilities, allowing to integrate other business solutions as well as bulk data transfers. |
Clearly, Oracle ERP Cloud offers greater advantages compared to Oracle EBS.
Benefits of Oracle ERP Cloud
Get extended migration support
With hundreds of migrations executed, Oracle experts have developed processes to move from Oracle EBS to Oracle ERP Cloud smoothly and in a timely fashion.
Reduce your TCO (total cost of ownership)
Compared to an on-premises solution like Oracle EBS, Oracle ERP Cloud offers significantly lower TCO. According to a 2017 report published by Nucleus Research, initial costs (including hardware, software, human resources, and training) for on-premises ERP are 2,.4 times higher, on average, than for Oracle ERP Cloud over a three-year period.
Dive into insights
Oracle cloud applications excel at consolidating data collected from a wide range of sources. Intuitive analytics dashboards help decision-makers make sense of business finance.
Take advantage of integration
One of the main advantages of Oracle ERP Cloud is that it can coexist with third-party applications, allowing companies to adopt new solutions faster while leveraging their existing data.
The Oracle Cloud Marketplace is the right place to find compatible applications for Oracle ERP Cloud.
From the Oracle Cloud Marketplace: Nakisa Lease Administration 
The Oracle ERP Cloud community relies on the Oracle Cloud Marketplace to find trusted cloud business applications and professional services for specific needs.
Nakisa's lease accounting and management platform focuses on delivering extreme robustness, scalability, and flexibility for organizations that handle hundreds of thousands of lease contracts.
Nakisa Lease Administration provides lessee and lessor accounting capabilities for complex portfolios comprised of thousands of properties, fleets, and equipment assets.
It supports enterprises and public administrations in achieving compliance with the IFRS 16, ASC 842, and GASB 87 standards.
Validated by Oracle, our SaaS solution plugs into Oracle ERP Cloud seamlessly through the Nakisa Cloud Connector developed for that sole purpose.
The connector enables bidirectional integration, so Nakisa Lease Administration can read finance and master data from the ERP, and post accruals, payments, depreciations, and more to it.
At Nakisa, we use innovative cloud technologies to deliver future-proof solutions, with extensive support programs that include online training, in-app help, how-to videos, accounting expertise, and more.
Nakisa is a member of the Oracle Partner Network. Our solutions are trusted by enterprises around the world, including Fortune 500 companies.

Learn more about Nakisa Lease Administration.