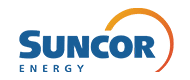 MONTREAL, Canada – 9/10/2017 - We are pleased to welcome Suncor Energy to the Nakisa Customer Family, consisting of over 800 global enterprise customers and over 4 million users.
Suncor chose SAP Lease Administration by Nakisa to support their global compliance initiatives for IFRS 16. Suncor's complex business requirements are in line with the requirements of Nakisa's growing customer portfolio in the Oil & Gas sector.
SAP Lease Administration by Nakisa's ability to streamline and simplify lease tracking and accounting makes it the perfect solution for an international Oil & Gas company. SAP Lease Administration by Nakisa serves as a centralized repository for all details associated with leased assets, enabling Suncor Energy to see all details associated with lease assets, contracts, accounting events, and payments.
About Suncor Energy
Suncor Energy is a Canadian integrated energy company based in Calgary, Alberta. It specializes in production of synthetic crude from oil sands. Across Suncor's operations, they try to achieve production of one million barrels of oil equivalent per day. Suncor ranks number 134 in the Forbes Global 2000 list. Founded in Montreal, Canada, Suncor has 13,000 employees and brings in approximately $30 billion in yearly revenue.
About Nakisa
A global leader in enterprise business solutions for Organization Transformation and Accounting and Compliance, Nakisa delivers innovative, forward-thinking and robust human resource and financial management solutions that advance your business strategies. Available on premise and in the cloud.
Working with a global network of partners and as one of the few Solution Extension (SolEx) partners of SAP® since 2007, Nakisa serves 800+ enterprise customers and over 4 million subscribers in 24 industries. Nakisa is proud to work with some of the world's most renowned brands.