You don't have time to struggle with software operations that cause delays and frustrations. And that's why Nakisa keeps delivering new features to its state-of-the-art solution that simplifies business transformation. Everyday org design modeling and HR data analysis are easier than ever, thanks to valuable customer feedback that continues to allow us to set the bar higher. The new Nakisa Hanelly 2021.R2 release adds more useful automations, easier system maintenance, and a more seamless user experience, saving you time and money.
Exciting New Features
Custom In-Chart Analytics
Expanding the use of your data enables you to understand your organization in new ways and allows you to pivot rapidly during times of change. The new custom in-chart analytics increase the potential of your data by allowing you to create custom operations like sums and averages with any field you have within your systems so you can visualize it directly in the org chart and track new metrics.
How to get the most out of Custom In-chart Analytics?
Organizations bringing custom fields from their ERP into Hanelly will particularly love this feature as it will enable them to leverage the data they've been collecting and use it in the org chart and modeling scenarios to create additional KPIs not included out-of-the-box. This helps better quantify your reorganization based on averages and sums of any data points you track. It also helps assess the performance of the org structure based on KPIs through custom fields. This new feature will also apply to existing default fields that may not have out-of-the-box analytics and provide flexibility in generating additional metrics during modeling or analysis exercises.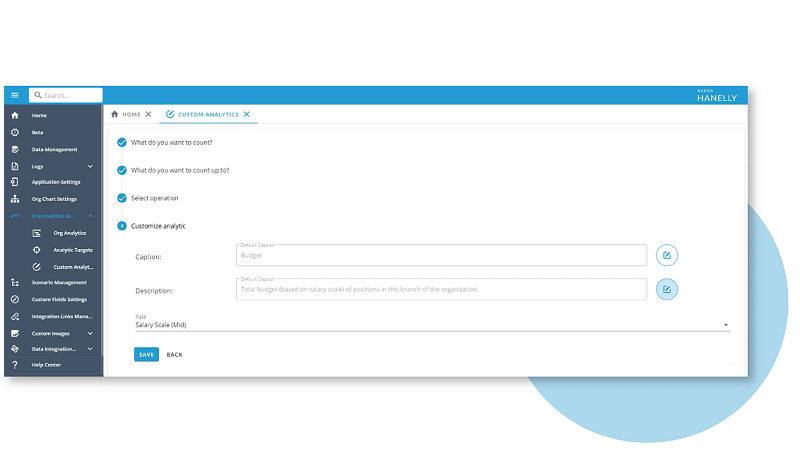 Chief Position Transfer Enhancement
Are we seeing a comeback of organizational unit reporting structures? Maybe! Organizations that use this reporting structure may encounter challenges when they need to move a chief or manager position with all their reporting relationships from one unit to another. Workarounds simply don't cut it anymore. With this operational enhancement, you have the option to keep a manager's assignments or create new ones – as easy as a drag-and-drop during scenario modeling.
Here's how you can leverage Chief Position Transfer Enhancement.
If you are modeling new scenarios to reorganize the way your different functions operate, you may decide to keep the reporting relationships under a chief position. In this case, Nakisa Hanelly can automatically apply the transfers to simplify your exercise. This ensures high-level consistency where no employee is left behind from lost relationships, saving you time from having to manually review different reporting relationships and redo the ones that are missing.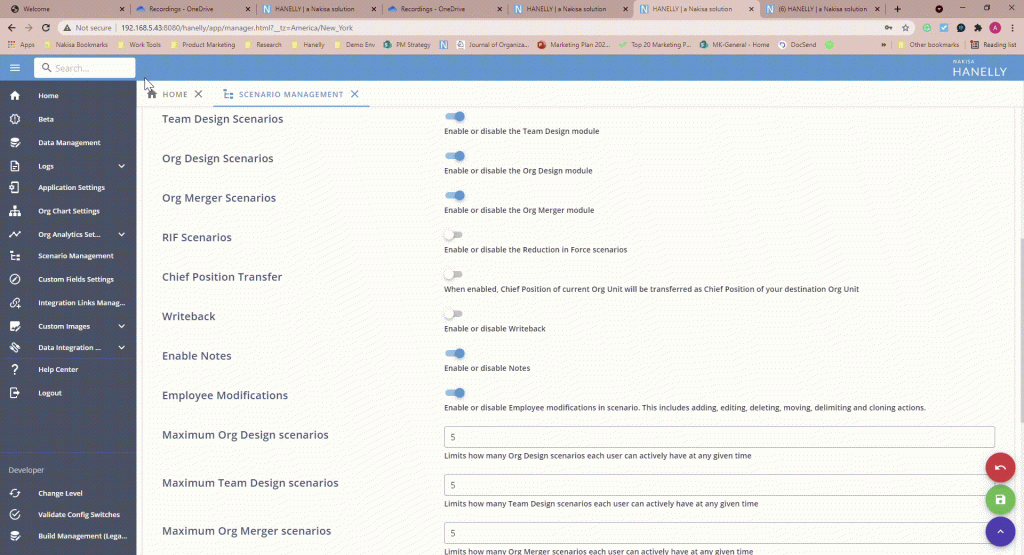 One-to-Many Configuration for Security
Having a global team means having collaborators across the world that need different types of access. This ensures security, but may lead to bottlenecks when collaborating with colleagues overseas. The new One-to-Many configuration for security enhances the matrix security model, allowing you to define the scope of the roles based on specific data fields out of the box. In practice, this means assigning one person to many groups to determine their access to sensitive information and other functionalities. You can use multiple locations, regions, functions, and other fields to define a user's area of responsibility.
How can you leverage the One-to-Many configuration for security?
If you chose a matrix security model, this new configuration available in the Admin Console streamlines implementation by reducing the need for customization. That translates into a reduction in costs and in the need for technical support. This ensures the highest level of security for data sharing and collaboration at scale. It also adds flexibility to the user role, allowing the organization to efficiently control who has access to what information so you can make sure your operations are optimal and bottlenecks are eliminated.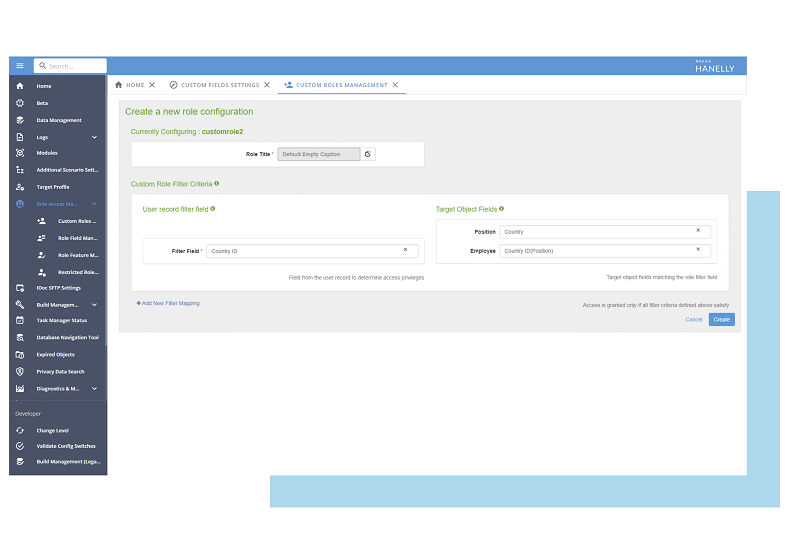 Integration Links
HR processes sometimes rely on org chart details and accessing specific data fields. As HR's tech stack grows, it can be complicated to navigate multiple solutions with ease and speed. Our new Integration Links seamlessly introduces Hanelly into HR processes.
Integration Links are accessible in the Employee, Position and org unit Details Panel in Nakisa Hanelly. They are hyperlinks that directly open a specific page in any external software or applications such as your SuccessFactors module, Workday and many others. All applications that have employee and department transactional data, and which support link sharing, can be integrated via Nakisa Hanelly with full user-role security.
So how do you leverage Integration Links?
The ability to perform specific transactional changes on the fly can streamline the process of modeling your workforce by allowing you to immediately correct issues in your data as you notice them. For example, updating job title information in your core HR system, or adding contact info in your employee database with only a few clicks. You save time by locating the info you need right away without needing to navigate through the whole ERP. And for organizations that don't write back employee and department changes outside of scenarios, Integration Links in Nakisa Hanelly will provide a seamless workflow with rapid navigation.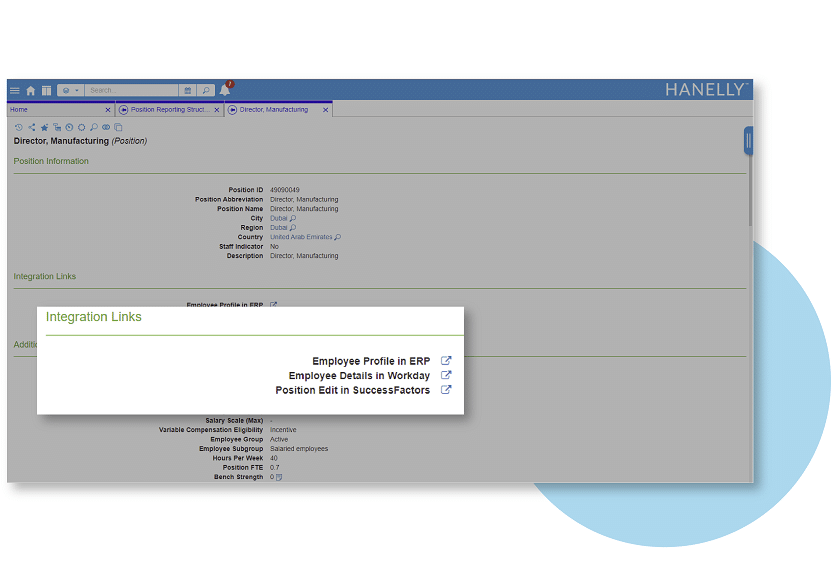 Power User Role
This new user role responds to the changing technological advancements and the ways you can access and use software. Using single sign-on authentication, the Power User can access both the user application and admin application with the privileges of the writer role and the admin application as a level-1 admin.
How to leverage the Power User role:
Caregivers of Nakisa Hanelly in your organization will benefit from simplified operations with seamless navigation between the front and back end of the solution. When back-end functionalities need to be enabled during scenarios modeling, Power Users will have the ability to do so themselves without having to rely on technical support.
Manage Scenario Ownership
When you have multiple users and stakeholders owning transformation scenarios and an employee leaves unexpectedly without transferring ownerships, time is of the essence: you need to reassign projects quickly to not miss any opportunity and cause unnecessary delays. In the Admin Console's scenario maintenance page, there is a new functionality that lets admins and Power Users change the ownership of a scenario themselves from the Admin Console.
Here's how you can leverage Manage Scenario Ownership.
When the owner of a scenario goes on leave without notice, admins can assign someone else to take charge of the project with just a few clicks, without having to depend on your support team. By having control of your operation, you make the transition of the org design project smoother. This also means that you can scale easily by giving multiple collaborators ownership of scenarios, involving as many stakeholders as needed without fear of losing internal control or creating additional challenges.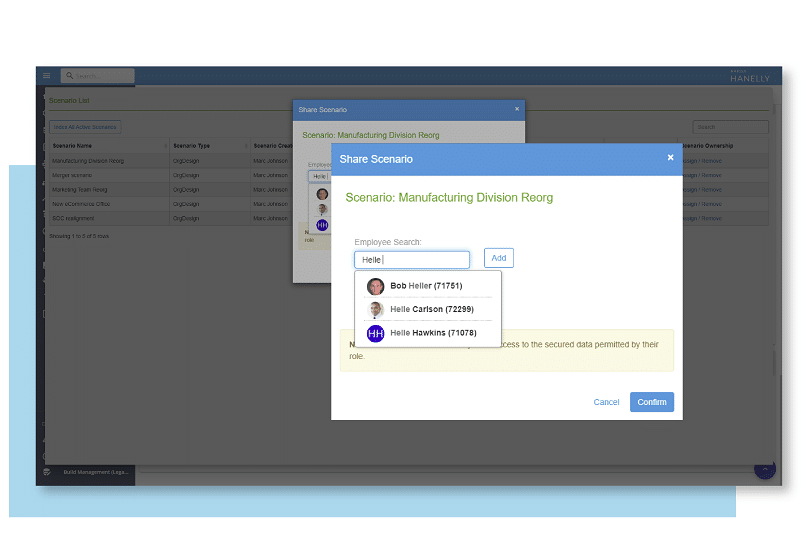 Cool New Technical Features
IDoc Listener Enhancements
Efficient data transfer from ERPs is key to successful synchronization and real-time analytics for scenario modeling. With the latest enhancements, we are making the IDoc listener even more robust by increasing the speed of monitoring, encrypting, and transferring files.
Our approach uses best practices for higher performance:
No need for a VPN connection
You are not dependent on the connection quality of your organization's VPN, which eliminates downtime caused by VPN connections.
The connector is now a separated component
The on-premises connector runs in your environment, collecting the IDocs and transfers them to Nakisa. Once it receives confirmation that data has been received and processed by Hanelly, it will delete its local copy. This eliminates risks of data loss during transfers.
Heartbeat signal monitoring integration
Nakisa Hanelly will know if the on-premises IDoc Connector is down and will send a notification to alert the user so you can take the necessary actions.
IDoc compression
The IDoc file is compressed so data transfers take less time.
IDoc encryption
IDoc files are encrypted at rest and in transit from the moment they are received by the on-premises connector until they are processed and imported into Hanelly.
In addition to the new approach, we have made some modifications to the user interface of the connector to facilitate the generation of extraction summary reports.
How to leverage the IDoc listener:
If you are an SAP user and are not yet using our connector, reach out to us so we can show you why we love it—and why you might, too. Our enhanced IDoc Listener improves performance, security, and stability —and with the addition of integration monitoring capabilities you don't need third-party providers and intermediaries to track the heartbeat signal.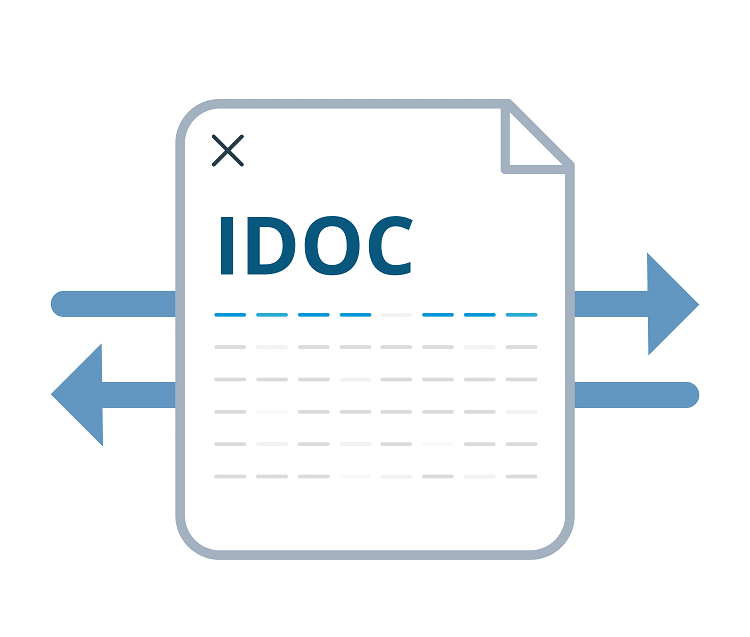 Additional new features to try
Audit Log in the Succession Management and Succession Pool features
New Scenario Changes Report
New Sync Report
New Key Date Change Report
Span of Control Analysis Report of Managed Positions
Mass Action in Span of Control Analysis Report
Configurable branding elements in the org chart
Updates to exports
There are even more updates and features to get excited about. If you're a customer, contact your account manager to get all the details. If you're considering Nakisa Hanelly, contact us today to learn more!