Nakisa Hanelly, the leading organizational design and business transformation solution, enables companies to visualize their organization, engage their workforce, and track HR data in real time.
In this blog, we are proud to introduce our latest release. Here are just a few of the latest developments, features, and enhancements to look forward to in our Summer 2020 Release.
API Layer and Connector
Since its inception, Nakisa Hanelly has focused on integrating with both ERPs and HRMS solutions. While Nakisa Hanelly already has a strong integration and data layer that can connect to complex systems like SAP SuccessFactors via the ODATA API capabilities, we have taken it one step further with the Nakisa Hanelly Summer Release 2020.
We tasked our development team to build a new API framework to allow us to be more dynamic both with data and how we process it. The API layer will allow us to be more of an open platform and will even allow services to be called directly via this API platform, which we have dubbed Hanelly API or H-API.
We developed our first two major connectors as part of the H-API framework. The first is the new SuccessFactors Connector, and the second is an AzureAD Connector. These microservices are part of our next generation cloud platform. Both use the same framework and administrator's configuration interface to extract data from the source to our Nakisa Hanelly database.
We are also working alongside our partners to open up the API framework and allow them to build their own connectors and assist with customer implementations.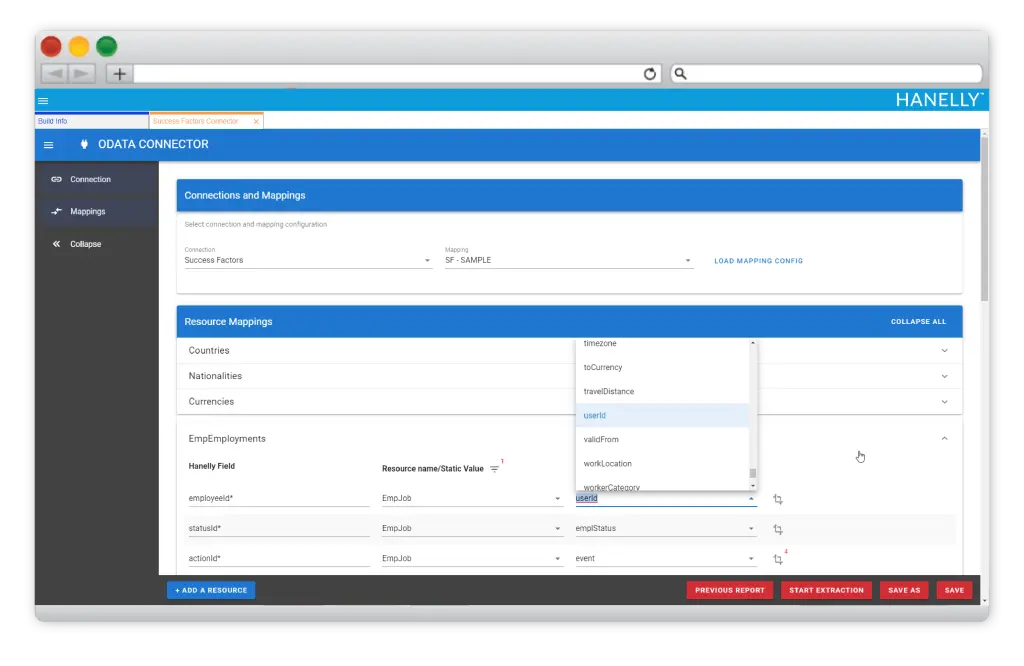 Dashboard Headings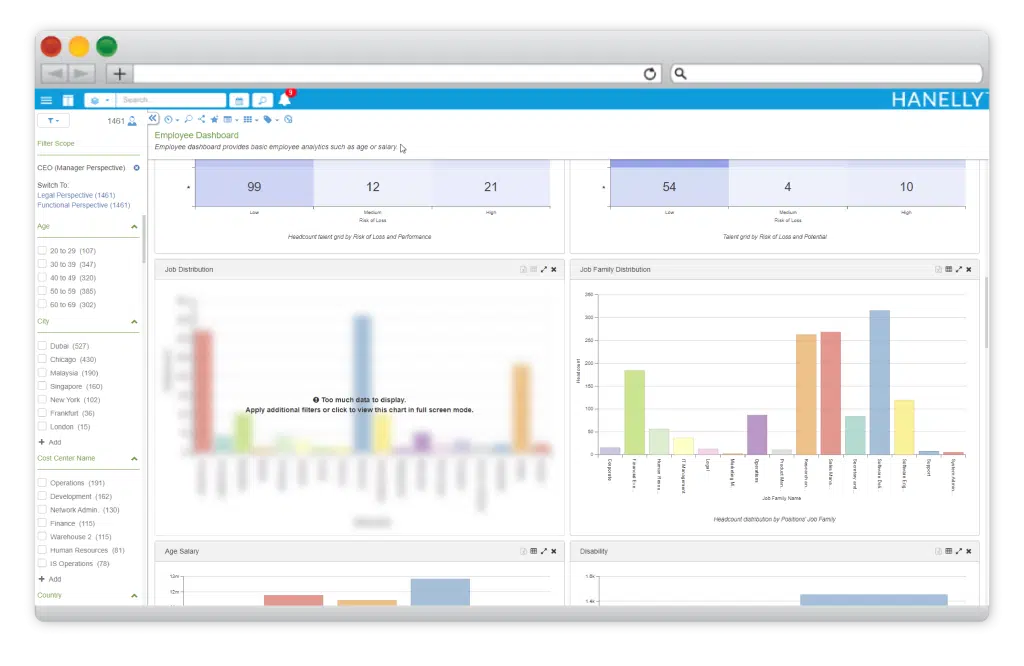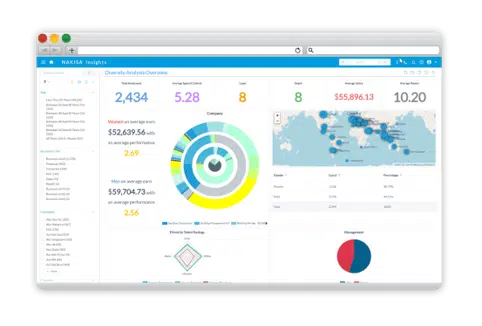 Advancements to our Dashboards
We are also working alongside our partners to open up the API framework and allow them to build their own connectors and assist with customer implementations. It is amazing to see the way Nakisa Hanelly handles and displays large datasets, specifically with the power of our pre-package delivered dashboards. One of our key customer requests has been for analytics charts to be more informative or self-explanatory, which is why we put in more context to describe the dashboards.
Hearing feedback from our customers has helped us to streamline our data-filled dashboards to take them to the next level. If a large dataset is being used, users are prompted to apply filters to scope down to ensure the data they want to see is displayed. Below are some examples of what we have done to solve for this.
In our Fall 2019 Release, a new set of extended dashboards was made available. These were initially tested for visualizing core data and due to enthusiastic feedback, as part of this release, these dashboards have been extended for all Org Design components. This development allows customers to see the impacts of various key metrics around Span of Control, People Analytics, Transfers, etc., granting our customers clear visibility of the various models and scenarios they may be reviewing as part of a re-org or reduction in force.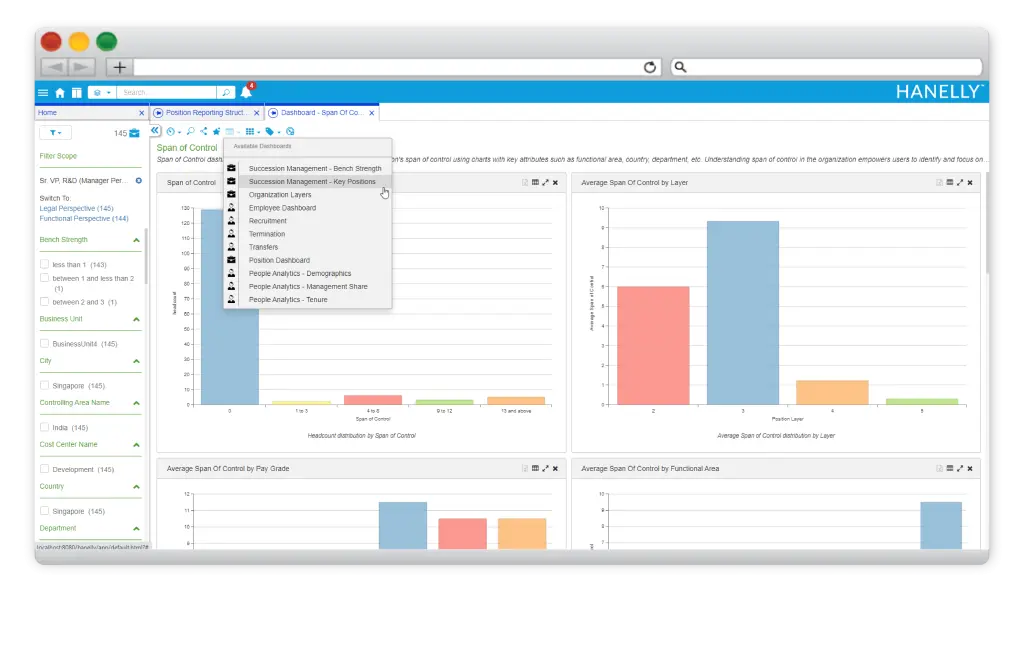 Switch between dashboards to fully analyze your org structure instantly
Navigations and UX
Nakisa's H-API framework also provides certain Navigation advancements. Users are now able to switch between dashboard views, while maintaining their selected data filters, instantly giving them access to the information needed to more fully analyze their org structure.
We have also enhanced the user experience during load times by providing feedback on what Nakisa Hanelly is doing when users perform certain actions that may take a few more seconds than we are patient for.
Perspectives: Matrix Enhancements
We worked closely on developing updates to our Matrix structures with one of the first Nakisa Hanelly adopters, and we are pleased that our broader customer base can now benefit from this enhancement. One of the major updates to this important innovation a few years ago was to bring the capability of viewing the key data in analytics and provide a quick way to go from a Legal structure/perspective to a Functional structure/perspective. These functionalities provide the dashboard analytics to reflect the data's various Matrix views.
RIF Scenario
While Nakisa Hanelly's scenarios have always enabled organizations to design and implement any kind of reorganization, in this release we are introducing a specific scenario that is focused around doing a reduction in force. For this, we have enhanced the existing org design features by introducing specific data points that are required to do a final RIF analysis such as moving costs and severance costs. A reduction in force requires difficult decision making. With these new data points, users are now better informed to make those decision.
Admin Console
The administration console has continued to evolve with each release over the last few years. We took a closer look at one of the essential tools that facilitates our deployments that is commonly used by our customers. After our investigation, we decided to revamp the administrator console to provide a clearer process and better navigation. This was also in line with our plans for our next generation cloud platform and ensures that certain tasks and actions would be available to our customers and partners to empower them to be more self-sufficient.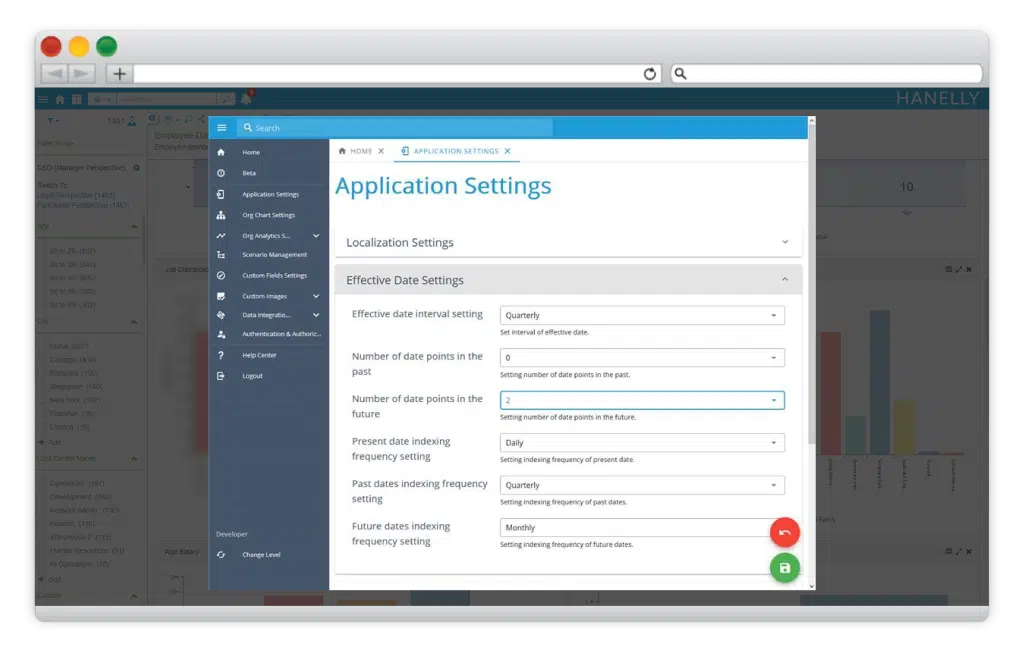 The new admin console empowers users with more configuration options
We've made developments to our Audit Log, also included in our admin console. This helps users see the key actions of what was done in the administrator console and follows IT general controls (ITGC) best practices. The service log will now show the details of all the major actions that were taken and by whom.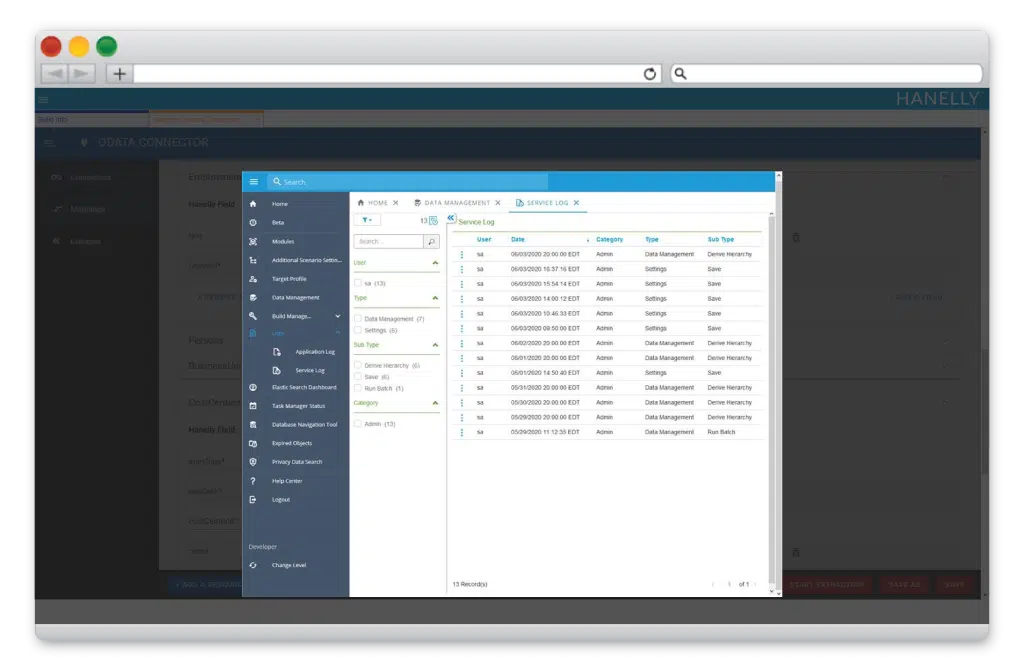 The new audit log tracks admin activity for increased transparency and accountability
Foundational Changes
One of our other key achievements of the Nakisa Hanelly Summer Release 2020 has been around preparing the solution for our next generation cloud platform and for the migration of our customers to this platform. This involves us supporting a new set of technologies and, ultimately, as we are constantly innovating at Nakisa, the next Nakisa Cloud Platform.
How does this translate to the end user experience? Many of the end users' experience will not change dramatically, however certain things may seem faster, and more users will be able to access certain activities at the same time. Ultimately, our latest updates are for our customers and allow us to provide faster innovation and a more robust and secure platform. We know how vital, valuable, and sensitive employee data is, and as a result, we want to ensure that we continue to handle that information with exceptional care.
Please reach out to our Sales & Solution Engineering teams or your account manager to arrange a full walk-through.