During the latest edition of Nakisa Connect, we gathered a stellar line up of industry experts and Nakisa customers from Gartner, Deloitte, Walmart, IBM, OPG and many others in a series of sessions that covered some of the burning topics on HR leaders' minds.
We covered critical HR topics like ESG, the application of AI in workforce analytics strategy, and best practices for addressing business transformation through organizational design, plus we gave insights into our HR tech and product development.
We are thrilled to have closed the HR track with a great announcement from our VP of Product, Dr. Soodeh Farokhi, where she introduced the new Nakisa HR suite, a suite of HR products for AI-driven Org Design and Analytics. Fear not, the Nakisa HR solutions you know and love are being transformed with new capabilities and insights to empower HR leaders to build responsive organizations, but they're being built with the same care and attention to our customers' needs.
In this article, we are going over some of the best questions asked by our audience during the Nakisa HR vision for the future session. In case you have missed it, you can watch it and all the other sessions here.
Note: This session has been edited for clarity and readability.
What are some of the challenges you've seen when it comes to bridging the gap or aligning HR, Business, and Finance? Dr. Soodeh Farokhi: As HR leaders, you've not been at the decision-making table for a long time, and now you are invited to be there. And these three elements - business, finance, and HR - they did not have a one-source-of-truth in the past few years. Now, what we believe is that we actually have to gather data that makes sense for these three teams with the goal of giving them visibility, agility, and access to reports that would make it easier to build informed strategies, based on the alignment that they have. I think the challenge is that they didn't have the same perspective on one problem. Now they're realizing that all of them need to be involved in the organizational design process, so as a solution provider we're looked at how we can help with this. The business team needs to bring the strategy, finance and HR need to work in close collaboration to understand the needed budget, and then HR needs to reorganize and redesign the organization in a way that is aligned with the business strategy. And at the end, I think that business strategy is the core element that will align these three parties, and then the reporting element of it that comes with a solution like Nakisa HR suite.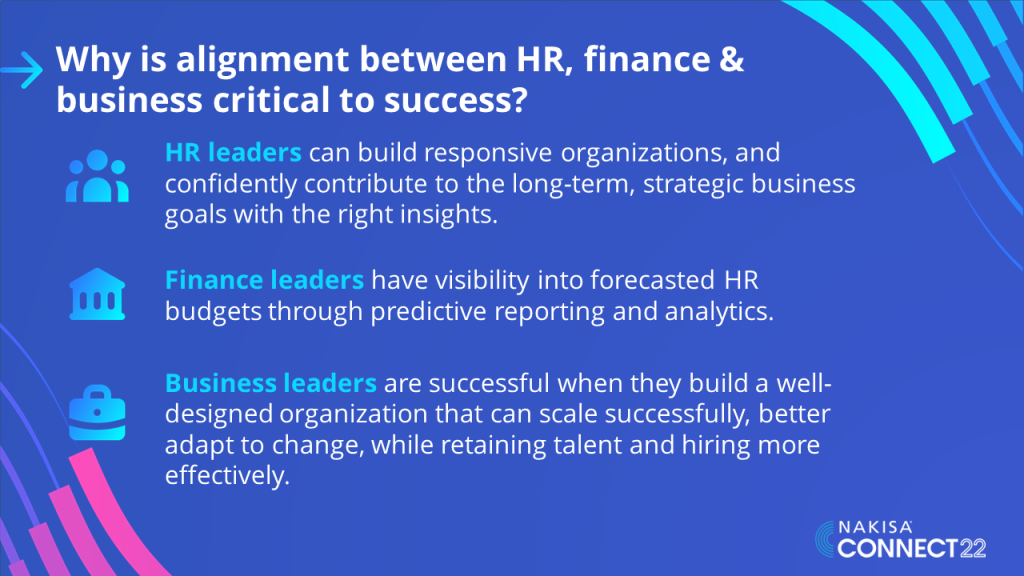 For organizations that have been doing organizational design in a more traditional way, how do you convince your organization to allow AI to make decisions?
There are many organizations that still use spreadsheets like Excel and flowcharts like Vizio and other generic, offline or non-HR tools to do the org redesigns. We've addressed this in the session when we spoke about the fact that the maturity level of organizations differs from one to the other. Organizations that have no formal organizational design process, automated process, or solution in place are probably at the first level of maturity, as they handle the data manually and disparately. So, we can't make them move all of a sudden to the highest maturity level. It has to be gradual.Instead, they can start with automating part of their process, by bringing the data into one tool, be it finance data, business data or HR data, so they get comprehensive insights and reports. This way they can have an eye on the progress by tracking it consistently, using Nakisa OrgInsight for example. Then, they would have the ability to know if something is not right and based on their metrics, they can then go do the reorg and redesign activities using Nakisa OrgDesign. And finally, they can become more mature by using Nakisa OrgAI that's leveraging AI to make predictive analyses to inform decision making. So that's kind of a spectrum, or the journey for organization, from where to start with and how to continue.
How do you trust the insights that AI provides for your decision-making? I would say data is the fuel of any AI algorithm. The more data you have and use, the more accurate the algorithms using machine learning approaches to finding patterns based on historical data are becoming. And AI is not making decisions for you. AI is just giving you insights that you cannot capture on your own, or with a manual process of manipulating the data. It will give you a broader sense of what's happening, or what's going to happen, so that you make the right decision. AI is just giving you the right insight, based on the patterns of historical data and predictions, for you to be equipped to make the right decision.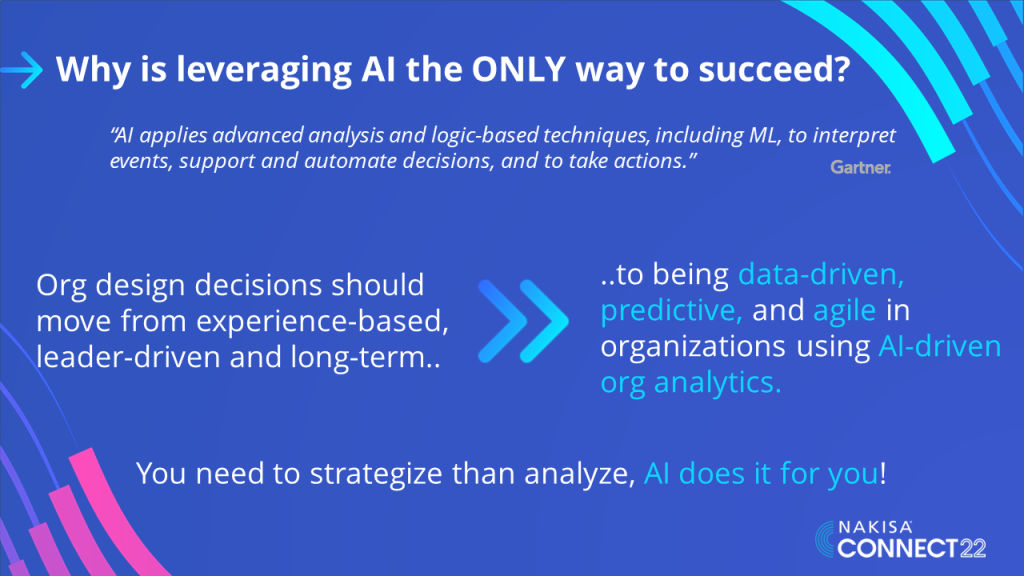 Will the new Nakisa HR Suite track changes over time? Yes, we do have effective dates in our solution. And we do track changes, because it's so important to understand the changes in the data and the patterns over time. In our OrgAI product we apply machine learning algorithms to all of the historical data to understand the patterns. So, tracking changes is a very important aspect of our solution. In our OrgInsight product, we use the concept of timeline with an intuitive UX to show the state of the org chart over time to show the changes in the organization structures.
What is the difference between a SaaS solution like Nakisa vs. other players in the market that offer a software solution which comes with services? As a SaaS solution provider, we believe that more intelligence needs to go into the products, so we build automation and provide intelligence that helps you accomplish the goal that you have, versus us charging you for consultancy services. There are a couple of players that do that, they offer a solution, but they charge you a lot on the consultancy services because it's kind of complementing their overall solution, so their offering is a mix of both software and consultancy services. At Nakisa, we believe that technology should be your enabler, an extension of your team, and everything should be inside the product. And with the advisory content that we provide, we actually believe you are empowered to achieve your objectives, effectively and cost-efficiently. You also don't need to be an Org Design expert to design your organization, the goal is to build internal expertise and solve all your business problems intuitively by leveraging our suite of software product. Learn more about the Nakisa HR suite.
Are there any updates or upgrades coming up for organizational chart plans? If yes, what type of timeline? Yes. We have org chart capabilities as a focus area inside the OrgInsight product and have done a full product discovery and a complete UX redesign on the topic. Product discovery is a research initiative to make sure that we're building the right product, not just building the product right. We've compiled all the criteria from the market and from our clients and gathered all the feedback we got so far. For the customers that have taken part in our user interviews for our UX redesign, first and foremost, a big thank you for the invaluable insights you've provided.
Are you planning to offer a complete workforce planning solution in the future at Nakisa, or will you stay focused on organizational design? Nakisa HR solutions are on the right track to cover the majority of the functions needed for workforce planning, especially with the addition on headcount planning, budgeting and forecasting into the new product suite. As workforce planning and modeling go hand in hand together, they include tools that enable HR professionals to plan and monitor the evolution of their organization by aligning talent supply and demand to various business scenarios. Workforce planning and modeling brings business, HR and finance leaders together. As for the strategic workforce planning, we believe helping our clients to build a responsive organization will eliminate the need for long-term strategic planning as the nature of the businesses and markets have been changed after Pandemic.
Blog: Learn more about how leaders can create organizational alignment
Bonus roadmap updates
What are the core principles of the Nakisa HR Suite?
We have built our Nakisa HR Suite upon the following 8 product principles:
Realizing the concept of responsive organization
Leveraging AI for automation and predictive analytics
Intuitive user experience (complete UX redesign)
Bringing financial data into our product suite
Rich in-app engagement
Flexibility via configuration vs. customization as a SaaS solution
Offering ESG reporting focusing on the social pillar with compliancy with GRI and SASB frameworks
Actionable insights vs. informative insights
Blog: Find out how Walmart, IBM and Deloitte are addressing the impacts and challenges of ESG from an HR perspective
Could you please share product roadmap?
We'll start by offering our Nakisa OrgInsight product first that is organizational analytics and visualization solution, and it focuses on answering what the current state of your organization is. It helps any organization with different levels of maturity to leverage the analytics they need to make informed decisions. We will ask our existing clients and the wider market to give us feedback on the first release by the end of Q3 2022.
The second product is Nakisa OrgAI, which is is a solution that provides you with HR intelligence through proactive predictions and diagnosis on your org. It focuses on answering what might happen in your organization. We're planning to have this release by end of 2022.
Then we will release our Nakisa OrgDesign which is a solution that lets you build the future organization while leveraging the responsive organization concept, and it focuses on answering the questions of what the future state of your organization would look like. This will be released by mid 2023.
The prerequisite of using the second and third products is having a certain level of maturity in your organization. Don't worry using OrgInsight will give you the first level of maturity you would need, then OrgDesign will help you to increase your maturity further and lastly OrgAI will help you to stay on top of the market with your AI-driven decision making.
Learn how your business will benefit from the new Nakisa HR Suite for AI-driven organizational design and analytics here.