The following blog has been written by Imran Mia, Head of Center of Excellence at Nakisa Inc.
Imran has been with Nakisa for five years, working with the world's leading organizations, and is a subject matter expert on lease accounting and IFRS 16 and ASC 842 compliance.
Strange as it is to say, I find the evolution in lease accounting standards fascinating, which is why I have invested so much time in it and why I strive to stay up to date with the latest studies and developments. Recently I came to learn about a study completed by PwC which revealed some key insights about public companies' journey to compliance under both ASC 842 and IFRS 16 standards.
It should be no surprise to most that while the study shows some organizations have opted to leverage specialized software to address this complex issue, a significant number utilized manual systems and desktop applications (Excel) to compile leasing data and start reporting. Astonishingly, 70% of the companies who opted for specialized software required manual workarounds and only 18% reaped the benefits of a turnkey solution.
The survey then went on to identify the top missing functionalities in IT solutions for lease accounting purposes (shown below).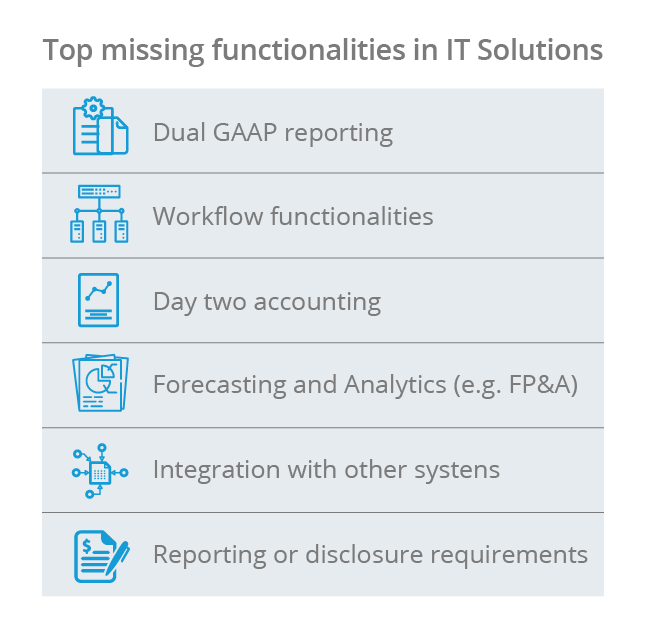 Source: PwC. "IFRS 16 – Beyond the Implementation"
It would be interesting to look closely at our solution, Nakisa Lease Administration software, and perform a fit-gap analysis against the findings of the study.
Nakisa Lease Administration – Fit/Gap Analysis
1. Dual GAAP reporting
One of the most basic functionalities of a lease accounting solution is to support IFRS and US GAAP reporting. An ideal lease accounting solution should offer the same functionality and accounting capabilities for both standards in parallel. In addition to the two main regulatory standards, many companies are required to adhere to several local GAAP standards, such as the UK, French, and German GAAP.
Nakisa Lease Administration software easily supports multiple reportings with the same input and pushes out accurate accounting calculations to ERPs thanks to its integration capabilities with SAP, Oracle, etc. (more on that later).
2. Workflow functionalities
Since more and more attention is being paid to Internal Control Systems, auditors and lease software users look for audit logs that document changes to lease agreements. They also hope to identify financial terms impacting calculations.
Through Nakisa Lease Administration, we enable our end-users to extract multiple reports from the system which can grant Internal Control System assurances. Additionally, we support IT general controls (ITGC) with audit logs that track the changes made in the terms and conditions, master data, and configurations. Our software also offers an easily configurable approval workflow aligned with various security roles and approval matrices within organizations.
3. Day two accounting
It goes without saying that the ideal lease accounting solution needs to compute and support the accounting pertaining to leases.
Ongoing data capture of new leases: To painlessly support our customers in adding new leases to their existing leasing portfolios, we introduced a validation framework into Nakisa Lease Administration software. This permits the processing of large volumes of leasing data and doing so error-free; we upload data to a staging area and check for accuracy and completeness.
Ongoing changes to existing leases: For vast lease portfolios, there will be events that will impact current values and future postings. With Nakisa Lease Administration software, users can tackle lease event modifications in bulk by identifying leases that require modifications such as extension and termination, and then they can systematically remeasure the ROU Asset and Lease Liability. We also provide full audit trails during lease modification by saving pre and post-modification schedules as well as a summary report to show the impact on ROU Assets and Lease Liability.
Batch processing: Not only does our leasing software support large lease portfolios and mass postings, but we also provide plenty of flexibility with a job scheduler tool to perform periodic amortization, accruals, and payment postings based on the preference set for every entity within the organization.
Incremental Borrowing Rate (IBR) selection and global CPI-based measurements: Maintaining IBRs and CPIs by each individual lease can be time-consuming and error-prone. What we do differently is that we maintain an IBR table in the backend; this comes in handy during lease input and reassessment/modification processes as it automatically picks up the right IBR based on the terms and conditions in the contract. To simplify and streamline index-based remeasurements, users can use our CPI global functionality so that multiple contracts tied to the same CPI can be changed simultaneously whenever there is a change in the CPI.
Currency translation Global businesses have requirements to extract data from a lease accounting solution in different currencies. For example, disclosure reports need to be translated when taking rates applicable for non-monetary assets and monetary liability. We support the full gambit of currencies: functional, transaction, and reporting currencies.
Month-end closing reports Most accounting software users require month-end reconciliation between what has been reported for IFRS16 and ASC842 in the leasing sub-ledger and what has been booked in their ERP. We support the creation of all month-end closing reports, such as Trial Balance Reports, Transaction Reports, Activity Analysis Reports, Financial Reports such as Balance Sheets, Income Statements, Cash Flow Reports, etc.
4. Forecasting and Analytics
Every organization has varying business requirements for financial planning and analysis purposes. For example, some users might need to see expenses or payments aggregated by company, while others by cost centers. These data requirements can be specific based on many factors such as geographic region or market, asset classes, etc. Our Dashboard Reporting Tool allows users to dynamically create real-time custom reports by slicing and dicing data into exactly what is needed.
5. Integration with ERP
To sustainably comply, and report according to the complex new lease accounting standards, it's crucial for accountants to establish as much automation as possible. Not only does Nakisa natively integrate with SAP, but it also connects to Oracle through the Nakisa Cloud Connector. Furthermore, in one of the more recent versions of Nakisa Lease Administration, we released several API Connectors to extend the reach and extensibility of our solution.
6. Reporting or disclosure requirements
When building Nakisa Lease Administration software, we placed a heavy emphasis on supporting quantitative disclosure reports. The system can generate the full set of quantitative disclosure reports as required by IFRS 16 and ASC 842 and ensures that the currency translation for these reports is done in accordance with IAS 21 and ASC 830 respectively.
Final Thoughts
Almost one full year since the adoption of the new accounting standards, it has become apparent that companies are yet to realize the benefits of bringing their leases into the balance sheet.
The PwC report on lease accounting claims that a great majority of companies (51%) are seeking to benefit from lease portfolio visibility, while smaller percentages of companies are seeking to benefit from process optimization surrounding the leases and from cost savings through better decisions around leases.
If you're interested in learning more, I would invite you to join an upcoming webinar with the author of the PwC study we have referenced, in addition to experts from Nestle and Bayer discussing the same topics in this blog (those who read this in the future are of course invited to view the recording).
I would also invite you to visit this page if you are interested in learning more about the product itself.