Diversity, equity, and inclusion (DEI) initiatives shouldn't be short-term. In the past few years, successful companies have shown that DEI can become a new cornerstone of effective, sustainable businesses with a healthy, high-morale staff.
DEI is so important and effective at improving corporate performance that it should move from being simply an HR initiative to becoming part of your wider environmental, social, and governance (ESG) corporate strategy. Doing so demonstrates a company's commitment to ESG to its staff and stakeholders.
We'll explore how DEI can fit into wider ESG efforts and offer some practical steps you can take to increase DEI accountability in your ESG strategy. Learn about the impacts and challenges of ESG from the HR perspective: Q&A with Walmart, IBM & Deloitte
How companies address DEI workplace concerns matters to investors and other stakeholders when they conduct an ESG assessment. If they haven't thought through how they will address these concerns, they face several key risks.
Post-pandemic concerns and the great resignation
Companies need to think about the role of their HR in ESG. As businesses shift towards post-pandemic operating models, leadership teams realize they need a plan to manage mental health issues, employee engagement, and hybrid work schedules. In addition, employees from different social and ethnic backgrounds will have very different concerns in these spaces. That means HR teams will need to be a part of their companies' strategic decision-making to help navigate these complex issues.
It's not just investors that want companies to prioritize DEI. Employees do too. A joint study by CNBC and SurveyMonkey found that 78 percent of employees wanted to work in an organization that prioritized DEI.
Blog: Can talent mobility help reduce talent loss risk?
Legal considerations
Among investors, we've seen a sea change in attitude towards ESG in the past two decades. Once viewed as a concept opposed to an investor's fiduciary responsibilities, ESG is now frequently seen as a core component of those responsibilities. Moreover, ESG concerns are also increasingly legislated. More than 730 different policy revisions have been put in place in recent years, requiring investors to consider "long-term value drivers" when evaluating investments.
As of December 1st 2022, the European Union will be introducing a Corporate Sustainability Reporting Directive mandating all large and listed companies across the EU to follow sustainability reporting standards. This will affect any company that meets two of the following criteria: €40 million+ in turnover
250+ employees
€20 million+ in assets
There are also ongoing discussions on extending this mandate to include non-EU companies that have EU subsidiaries or are listed on the EU stock exchange. This will have a direct impact on global business, and specifically on North American companies.
Blog: What public companies need to know about the SEC's new human capital disclosure requirement
Decreased profitability
There are many reasons to prioritize DEI and ESG initiatives, but often the most direct argument to make to your senior leadership is that ignoring these initiatives can harm your company's bottom line.
Research by McKinsey & Company provided several important examples of why.
"Companies in the top quartile for gender diversity on executive teams were 25 percent more likely to have above-average profitability than companies in the fourth quartile." Similar trends hold for ethnic diversity.
"Companies with the most ethnically diverse executive teams—not only with respect to absolute representation but also of variety or mix of ethnicities—are 33 percent more likely to outperform their peers on profitability."
The bottom line is that improving DEI leads to more creative, innovative teams that can improve a company's bottom line.
Missed investment opportunities
Investors' fiduciary duties now require them to factor ESG into their investment decisions. The UN Principles for Responsible Investment organization has pushed for years for corporations to make diversity data more available so potential investors can make more informed decisions. If your company cannot demonstrate its DEI initiatives in data, it could miss new investment opportunities that could drive the next decade's worth of growth.
Practical steps you can take to improve DEI accountability in ESG
Measuring activity surrounding human behavior, relationships, and performance is a complex process. So, when it comes to ESG, the social metrics organizations want to track often aren't obvious. But with the right tools, you can collect meaningful data.
But was does accountability look like here? It means establishing clear responsibilities and processes for monitoring, communicating progress with all stakeholders and measuring results.
Here are some concrete steps to improve your DEI data collection and your DEI accountability in ESG.
Start by developing a better understanding of your organization
First, you need to establish a baseline understanding of your organization's diversity, equity, and inclusion. Take an org analytics-based approach to understanding where your organization stands and where it wants to go. Some starting point metrics you could collect include:
Organizational unit demographics, such as age, gender, and ethnicity
Demographics of promoted candidates
Demographics of executive team members
Self-identified ethnicity from hiring candidates
Use real-time DEI data collection and predictive analytics to reimagine your future state
The next step you'll want to consider is conducting real-time data collection for your DEI metrics. Seeing activity in real-time can help push leadership into making meaningful changes that will improve your ESG position. It is harder to ignore DEI concerns and opportunities when you can shine a light on them right in the moment.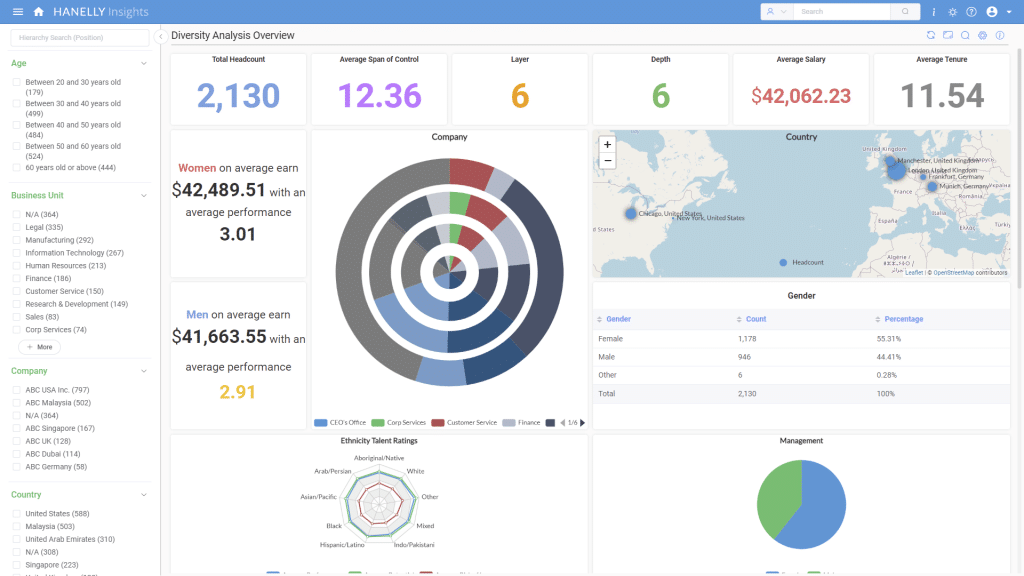 You don't need to leave your executive team waiting for the next monthly meeting. A DEI dashboard can pull live reports on demographics in your organization or allow you to try new HR analytics approaches to make on-the-spot decisions.
When you have a clear understanding of the current state however, you'll want to move away from these on-the-spot decisions and proactively leverage predictive analytics to make sure that the future of your organization is headed in the right direction for ESG. To be truly successful, you have to keep your eye on the prize after all.
Even though the ESG landscape is complex, there are tools and metrics you can track and prioritize to hold the right stakeholders accountable for future outcomes as well. We cover a few possible options below.
Generate workforce intelligence using ONA, AI, and machine learning
Pulling up an org chart is useful, but it can only tell you so much about an employee and their team. That is because an org chart only shows you the official network in which an employee operates. It doesn't necessarily match the actual network of contacts an employee uses to get work done.
Organizational network analysis (ONA) helps capture those productive relationships and connections within your organization. AI and machine learning software can reveal meaningful connections you might not notice otherwise.
For example, suppose your executives want to identify a change leader to spearhead a DEI initiative within a department. In that case, they could use a machine learning-powered ONA to identify the right individual to do that. Or an ONA could reveal the potential negative DEI impact of forming a proposed project team. Without this insight from a DEI dashboard, you might accidentally harm the diversity within an important organizational network and wouldn't know it.
These insights can help you predict future changes and their impact on the organization, helping your teams to prepare in advance and mitigate potential risks. In this context machine learning and predictive analytics can help you play with data and test different outcomes so you know which course of action is the best to improve and optimize even the most complex of organizational designs.
Reporting on ESG metrics
ESG and DEI reporting can be difficult in part because there is still little consensus on the metrics you want to monitor and include. For the time being, there is no ultimate checklist of the right metrics because they will vary from one organization to another. That challenge frequently leaves companies with little structure or standardization for their reporting.
To address this, before you do anything else define the metrics you want to measure, ensure you have the capacity and ability to collect the data efficiently to support your metrics, and who the key stakeholders in your reporting process are. So that when ESG requirements become more defined, you can be ready to pivot and update your reporting.
A good starting off point though is to leverage existing and renowned DEI frameworks such as the Gender Equality Index to start reporting on the fundamental elements in the workplace such as equal opportunities, promotion rate over time by gender.
Formally and consistently reporting is critical to accountability, you can't take a snapshot once a year and say you're working diligently. For real depth of understanding it needs to be done repeatedly over a long period of time. While it was found in a recent report that less than half of investors had a formal process, this is something that can be implemented and easily automated with the right tools.
Bring meaningful change
Better DEI accountability in ESG strategy can have a major, positive effect on your company's performance. To get started, you just need the right tools. Nakisa provides an organizational design and workforce analytics platform that provides real-time insights into your organization's DEI. It gives your leadership the actionable intelligence to proactively improve your ESG position and set your company up for long-term, sustained growth.
Want to see how?